NEW AMERICA AND THE CONSTITUTION
September 10, 2009
Why is it that all of a sudden the year 2009 has to be a year of change? Maybe it is not just this year, maybe the sudden change in America as we know it has not been sudden but gradually building? In the last couple of years I have seen a dramatic upheaval of what I thought America should be
All of this leads to my argument. What is going on in Washington? Mind you I am no political analyst nor do I have a degree in foreign and domestic policy, but what I do have is mind that is concerned with some issues in my government.
Why is it that I get the feeling that America is no longer "For the people, by the people?" America was founded on the principles of freedom not just religious but from the freedom of persecution and infringement of rights. Recently with the election of Barack Obama all I seem to hear is socialize this and socialize that ,and for the people who are going to try and say that Obama is not ",socializing," anything let me remind you that a government run and controlled anything is a form of socialism for it is for the whole of the "society." Take the health care reform bill that is currently of the floor of our nation's congress. The thought of my government controlling the possibilities of me or my family getting healthcare scares me. What happens if in America we get a tyrant who has ill feelings for a certain group, religion, or race? Do not say that it could not happen for believe me it can. Rome was at one point, before the age of Caesars, actually a republic much like ours; they had a senate and different counsels on matters of state and even had a crude sense of checks and balances. Like history shows the republic was short lived. Rome got someone who would not leave and set himself as the champion of the people and the people were his people who he could control and conquer if necessary.
Now I am not saying that America is going to become the next U.S.S.R or China but I am concerned that my government will overstep the constitution and cross the line of personal choice to federal novation. Certain rights I believe should be in the hands of the citizen as in the raising of a child and the choice of where you want to live. Now the Constitution ordains Federal government to protect me from certain harms and threats that are both foreign and domestic, but it does not say that the government has the right to dictate what I make as a personal choice.
In summary I think that America needs to get back to the way our fore fathers envisioned America. Where Americans are protected by their government and ruled by their God.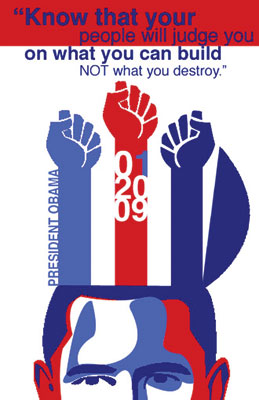 © Brennan W., West Linn, OR