Why am I hearing Things?
April 5, 2009
Why did these things happen to me?
Why Am I hearing things or voices?
I hear my godfathers voice and he died when i was five.
I hear my mom and sister fighting when my sister wasn't even hear.
I hear someone or something crying.
So why is all these things coming to me?
I have no idea why.
One one of the things i can do is just pray that i hope these things dont haunt me.

Has this happened to you?
Does this bother you like it does me?
I will never find out...

Will i stop hearing things?
No one knows.

With My Hope, it'll stop soon.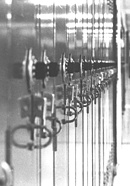 © Anonymous