Dyslexia, A Disability
November 22, 2009
Many people believe dyslexia is a disability, but how can you perceive people who think differently as a condition of not being able to learn simple skills. In fact I perceive dyslexia in a different way. In my perspective dyslexia is none other than a gift. Since first grade I was diagnosed with dyslexia and since then I have been in some Special Ed classes. Although when I was younger, I do admit to having some learning problems. I soon overcame many of them.


I believe the reason people feel that dyslexia is a disability is because the fact that some teachers are not teaching the students in the way they needed to be taught. Everyone learns differently. Simply because everyone is different. Therefore, I believe that if you think that dyslexia is a disability because people think differently then you should label everyone who learns differently because no one learns in the same way.


When I was in first grade I remember my first grade teacher say that I would never be able to read or write. When I overheard my first grade teacher say that to my parents, I refused to believe it. Ever since I was little I always wanted to read and I refused to let some teacher assume that just because I am dyslexic, I wouldn't be able to read or write. Since then I have been reading many books above my age level and I now write as a hobby because it is fun. In fact many people believe my writing ability is my talent. Even though dyslexia is supposedly qualified as a reading and writing disability, many people have some sort of talent in reading or writing who have been diagnosed with dyslexia.


Math is also qualified as a big problem for people who have dyslexia. In fact math is one of the subjects I hope to overcome my problems. Even though I have a problem in math many people who were diagnosed with dyslexia are very gifted at math. In fact many dyslexics are talented in math including Albert Einstein. Albert Einstein was one out of many ingenious dyslexics.


A slew of people who are dyslexic are famous for having a specific talents. These are a few of many famous people who all happen to have dyslexia, F. Scott Fitzgerald, Ted Turner, Walt Disney, John F. Kennedy, Andy Warhol, Pablo Picasso, Leonardo Da Vinci, Avi, Patricia Polacco, Orlando Bloom, Thomas Edison, W.B Yeats, Albert Einstein, who I mentioned before . When many people hear about the famous dyslexics, they respond by saying something's more or less, "Wow, how can so many of these famous people suffer from this disability?" They don't get the point. It's not how all these people overcame dyslexia, it's about how it helped them achieve their dream by looking at things differently.


Dyslexics are one type of people that could be misunderstood as someone who is dumb or lazy but what most people don't see is the talent hidden behind that... Dyslexia itself is also misunderstood as a disability just because dyslexics think differently. People usually never think the pro's of dyslexia and never realize that although it may seem that there a lot of con's dyslexic, there are a lot more pro's then con's but if only people could see the truth behind dyslexia. Dyslexia is a hidden talent!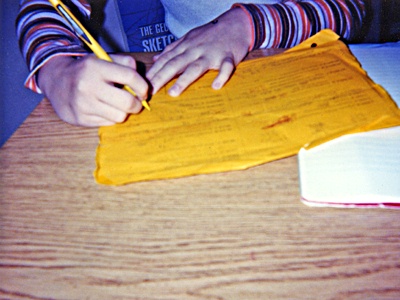 © April R., Highland Village, TX