Do the right thing
February 5, 2010
There are things that I've seen personally, there are stories from both views, and there are scenarios that make your heart full of sorrow when reading the pain written into every word. Even if you have not been involved in teen violence, you know it is out there and other kids are being haunted by it everyday. Youth violence has affected my life in many ways. At first I did not realize it because I tried to not put myself in situations that would allow me to be apart of teen violence. The thing that made me realize teen violence, isn't a big deal at all to others, but it was a big deal to me. One day I was walking in the hallway next to the wall so no one could bump into me. I ran into a stronger and taller boy who was a year older than me and he didn't want to move away from the wall either. He looked at me as if I was a child and ordered me to move. I don't know what came over me but I said no and stood my ground. He ordered me again but still I replied with the same answer. He then chuckled and grabbed my wrist and tossed me out of the way. I staggered into the crowd and although I was not harmed, it opened up my eyes and it showed me that some of the kids in my school, are not afraid to tear down a smaller stranger. I walked down the hall noticing tons of more acts of teen violence. I saw kids getting slammed into lockers and the bullies standing tall over the target, and the kid being bullied would shy away, feeling the death gloat of the attacker. It really hurt me as I walked down the rest of the hallway to finally realize that work wasn't the only thing that was tough in school. I now felt unsafe, insecure, and teased. Also I felt like the burning eyes of the other students were on my back trying to set fire to my soul.
What happens in teens life's and the things teens do, often leak into their attitude and actions at school. Some causes of teen violence are already known but sometimes lack backup information describing it. For some families the parents have a very low irritation level and don't let their anger out during the day. When a parent might get home they will feel the need to let out their anger on something simple their child has done and sometimes they can't control it. This attitude slowly works its way to the child and has the after affect of making the child have a short temper like their parent. Even if they use to never get angry, the child or kid is mostly surrounded in negativity and as a consequence, they will soon only see that side. When a kid gets labeled as a bully, they are usually put by their peers as letting out their emotions on others. Another way kids become bullies is the students have an urge to penetrate your feelings because they drink in the emotions of guilt, sadness, isolation, anger, and sometimes even wanting something that you might have. I would describe bullies as emotion vampires. Some causes that I know very well about teen violence are the ones you put on yourself. Low self-esteem is one of the greater problems in this category and is very easily seen. Everyday most people walk past a mirror and criticize themselves on how they look that day. Consequently if we think that we don't look that day, our self-esteem plummets and school can be filled with habits of fixing your hair, pulling on your clothes, and making yourself seem obsolete. When this happens it might make you feel like you should be unsocial and then you may start to feel isolated and alone. This may gradually lead you into being an outcast and being teased by other students. The people who bully you think that you are less than them and believe they will feel stronger by irritating you and your peers. Also some of the more "popular" kids love the feeling of your desire to be them or to have the bullies strength, looks, or possibly knowledge.
Some things that others can do to stop teen violence, and things that I can do is to look a their self image. Bullies will not feel the need to interrogate someone who has a very strong self image. Kids need to look at themselves and realize that they are unique, strong, and beautiful in their own way. If all kids were to give themselves high standards and respect who they are and to believe that they are as good as everyone else, then bullies and teen violence will be defeated. Once everyone is positive about themselves, bullies will find that they cannot feed off of bad emotions anymore.
I can help others students be positive about themselves by smiling to depressed kids in the hall or talking to kids that are feeling alone. If I can make my friends feel worthy to be in this school then it will help them shine. Also if something bad happens to someone in school i will help pull them up and help them with theirs struggles. I think that we all should learn that it's not necessarily the bullies fault for our pain and suffering but the negativity we put on ourselves. No one should be bullied but in order for that to happen kids have to stop relying on immediate help from others, and look at themselves to try to make a difference.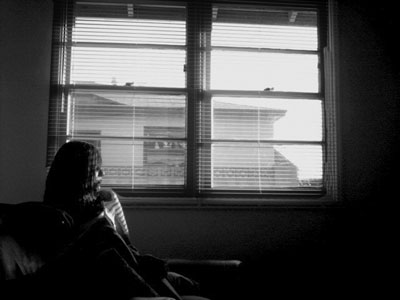 © Roxana R., Tustin, CA