The Truth About Gay Discrimination
August 19, 2011
Recently, I've been hearing many different reasons why gays, lesbians, and bisexuals shouldn't have rights in America. They vary in credibility and approach, but I have yet to hear one to convince me that they shouldn't be gay or have rights.

One reason, is that the definition of marriage is between a man and a woman. Marriage is a concept invented by humans. We define marriage. Definitions are changed quite frequently to include other things. An ironically good example is the word gay. Originally it meant to be merry or happy. Nowadays it more frequently means homosexual. There's been a huge movement recently to increase gay rights. This means that there is an ever growing population that thinks that definitions need to be changed. America is a democracy. We are ruled by the majority. When the majority of people agree that gays should marry, the law banning gay marriage needs to change immediately. Some states have already made the leap, but can we as a country?

The second reason, is that it's immoral. Morals vary from person to person, so why should your personal set of morals apply to someone else? I have nothing against morals; they are a very good basis for many of our laws. I think it's immoral to kill someone, and when you commit murder, you go to jail. However, gays didn't commit murder. I don't think it's immoral to be gay at all. By being gay, you don't hurt anyone around you. So why is it wrong? Also, many people's reason for it being immoral is because their religion is against it. But this is America, is it not? There's a separation of church and state. Just because the Bible or the Qur'an says that it is wrong, does that mean that religions should influence our laws? If they do, then we should include all religions in that decision. Do you really want laws to be made that way? In addition to that, gays aren't trying to legalize religious marriages. They're trying to legalize state marriages. You know, where you get married in a courthouse? So religion shouldn't be involved anyway. Religions can keep refusing to recognize gay marriages if they so choose.

The third reason, is that it will reduce the human population. If everyone is gay, then there will be no children and we will eventually go extinct, according to some people. Gays, lesbians, and bisexuals make up a very small percentage of the population. They have very little to no effect on the human population. It's highly unlikely that the rest of the population is going to become gay anytime in the near future. So their effect is insignificant. And I don't see what banning gay marriage is going to do to change that. They will continue being gay regardless. May I also point out, that the world population has topped seven billion? If anything, a reduction in population would be good for the rest of the world.

The fourth reason, is that they are detrimental to society. Some people think that being gay is a mental illness. This has not been proven to my knowledge. They also believe that gays are more likely to become ill with STD's because of the nature of the relationship, and that gays are promiscuous and engage in risky sexual behaviors. It is true, that AIDS was first discovered in gays. But it is not limited to gays is it? Straight couples can get it just as easily. Also, things like condoms have been invented to help protect against sexual diseases. Gays are quite capable of using them for safe sex. As for them being promiscuous, all the gays, lesbians, and bisexuals I've met are looking for love just the same as we do. They are interested in a serious relationship with their partner and only their partner. Maybe some of them are promiscuous. But aren't there promiscuous straight people? There are strip clubs that you can go to if you're of age. There are movies rated R for a reason and it's not because of the violence. Do they engage in risky sexual behaviors? Maybe some of them, but then again, they aren't alone in that area. There are straight couples who do the same thing.

Altogether, these reasons merely look like an excuse to me for continued discrimination against gays, lesbians, and bisexuals. There is no valid reason under the law why they shouldn't expand their rights. I'm not trying to force anything down people's throats. I don't ask people to change their opinion that homosexuality is wrong, merely that they tolerate people who think differently. The continued banning of gay rights is forcing their views on gays. Banning gay marriage prevents them on a personal level from spending the rest of their life with the person they love. Legalizing it doesn't force straight people to marry someone of the same gender. I hope that people will finally grant homosexuals their rights and live up to the freedom that America promises its citizens.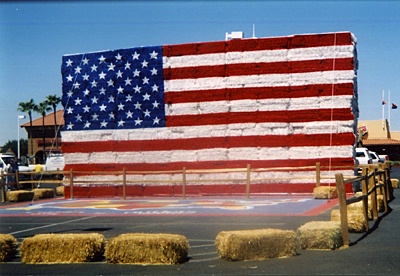 © Mary S., Grand Canyon, AZ