Food Brings Everyone to the Table, But What Brings Food to the Table?
April 17, 2021
Between you and me, I think that dinner is the most important meal of the day. Although breakfast refuels our minds and bodies for upcoming activities, and lunch may sustain our energy levels for the rest of the afternoon, only one meal provides a time for family members to sit down and maintain daily connections. Following a hectic day of work and school, dinner serves as a medium for people to slow down and discuss the storyline of a new movie or share how the class fish suspiciously changed colors again. Yet, we too often remain incognizant of the glue that holds these bonds together.
American farmers and ranchers work tirelessly with resolve that feeds the world. With the global population projected to reach 9.9 billion by 2050, and the concurrent shortfall of students entering agriculture, farmers and ranchers face greater dilemmas than ever. They devote their mornings, nights, and everything in between to stock our shelves with food—all while their life's work is at the disposal of Mother Nature. Still, they embrace the challenges and prevail against uncertainty.
Constantly adapting and innovating in accordance with their environment, farms utilize technology such as global positioning satellites, auto-steer guidance systems, temperature and moisture sensors, and aerial images to prepare the soil and harvest crops. Robotic and procedural advancements enable higher crop productivity, reduced impact on natural ecosystems, and decreased usage of water, fertilizer, and pesticides, which keeps food healthy and its prices low.
As consumers chow down on the nutritious and abundant supply of food—a product of agrarian resilience—they are also given the gift of variety. Farmers and ranchers ensure that agricultural production progresses with the world's dietary demands. For instance, concerns toward health have led to the popularity of high-protein diets featuring plant-based protein. Mouth-watering, though healthful, meals such as crispy parmesan garlic edamame or red lentil taco soup are readily available to us because farmers dedicate every day to producing harvest for them.
The value of the agricultural field and its workers has been unrightfully diluted. However, consumers' interest in food production and processing is growing. People's increasing sense of responsibility has influenced purchasing habits and has led them to learn about the heart of the industry. Thus, farmers and ranchers are gradually receiving recognition for their substantial efforts in adopting eco-friendly practices and providing safe food.
Be it through cultural traditions that are shared with others and passed down for generations; be it through designating a period for family and friends to congregate and connect; be it through breakfast, lunch, and especially dinner; food nourishes our relationships—and we have our farmers, ranchers, and the companies serving them to thank for that.
Works Cited
"Agriculture Technology," United States Department of Agriculture, National Institute of Food
and Agriculture, accessed January 28, 2020. nifa.usda.gov/topic/agriculture-technology.
"Growing Consumer Interest in Food Production," Linkage Research, accessed January 28,
2020. linkageresearch.com/consumer-food-production/.
Isabella Chism, "Technology Innovations are Changing," Ag Day Blog, March 7, 2016,
agdayblog.blogspot.com/2016/03/technology-innovations-are-changing.html.
"World Population to Reach 9.9 Billion by 2050," International Institute for Sustainable
Development, August 6, 2020, sdg.iisd.org/news/world-population-to-reach-9-9-billion-by-2050/.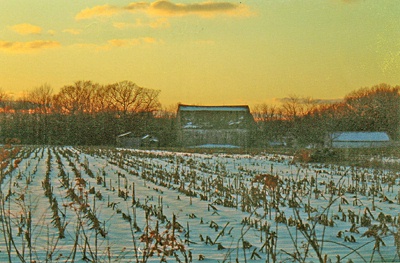 © Liz K., Rockford, MI