Rain, the effect it has on you!
May 30, 2014
The way rain gets you is scary. It makes you nervous. You don't want to get drenched because it reminds you of a few feelings you just can't name, but somehow, it gets you. It makes you vulnerable. The melancholy eats the heart out of you. The pitter-patter drops sliding down your pale skin, getting into you, and creeping in with memories of thousand shades of diverse colors. The grey haze reminds you of things you've kept in, locked in the sickest, dustiest corner of your heart and not yet ready to throw them away. The bitter flashbacks and the sweet memories of the past still new as a damp paint in the back of your mind are brought up. The effect it has on you, the rain.
But at the same time, it makes you want to cry with joy. Its sound cajoles you, makes you want to run and laugh and giggle and kiss and dance. It brings your spirits up, gives your sweet smile a boost. Your wet hair touches your cheeks softly, cooling off your wrath, making you want.
Oh, the effect it has on you, the rain.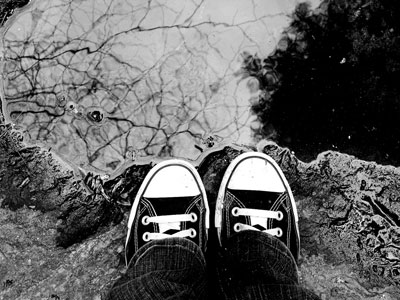 © Michelle B., Blairsville, GA