A Letter to Father
December 17, 2020
Dear father,
Hey, Daddy. How are you these days, can you believe it has been a year since we last met? This is my first time writing you a letter, and I don't know where to start. It is almost New Year, but I am sorry I still can not celebrate with you this year. So I decided to write this letter to you, telling my feeling of being your daughter for 16 years.
When I was little, I "hated" you, because you were always busy in my early day memory. You sent me to kindergarten since I was two, and from then on, I stayed in the kindergarten whole year round, including summer, when every other kids were staying at home happily with their parents, only me crouching in the corner of the kindergarten, wondering where you are.
Do you remember the summer ten years ago, you drove me to a pool near our neighborhood? That was my first day learning swimming. The sunshine was scalding, but the water was freezing. I was standing with other twenty kids who I have never thought I would be training with them in the following 8 years. Since that summer, you drove me there three times a week and never ever missed once. For many times, I have been crying and yelling to you, for I wanted to give up. But I never succeeded, since you threw those scolding staring at me every time, which is far worse than an actual scold. Since then, the crack between us has grown wider.
Another eight years passed unconsciously, and you sent me to study abroad. Two months later, I dialed you, crying, complaining. I yelled that you don't want me anymore, and sending me studying abroad is only an excuses to drive me away from home. At the other side the world, you didn't say a word, there is none but silence from which I heard. I was disappointed and exhausted when I hung up.
As time passed slowly with fading memories, only love is left. The other day, my mum called me back, and she said that you didn't sleep that night, that you were so painful to hear me so depressed, because your only hope is I am happy. I misunderstood you, misunderstood the silence. You care about me, more than anyone does; but you want me insist on the choice be made, even though many obstacles will be on the path, so you keep quiet.
Sorry, Dad, forgive my impertinence and childish. Your daughter is no longer a baby now. She has grown up to protect you in returning for you 16-year caring. I know your give is beyond my ability, but I will still try me best. Do you still remember a sentence you always say to me? Now, I want to say that to you, "when the heaven was falling down, I would strive against it for you."
Miss you,
Your daughter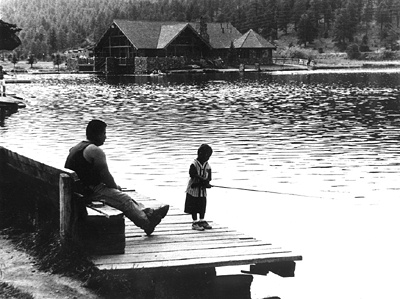 © Ryan P., Greenwood Village, CO