Teenagers Having Sex : Right or WRONG!
March 2, 2010
Don't you feel that the world today is revolved around sex, drugs, and pressure? Our generation is different than our parents. Relationships are different than they used to be. There not caused by love at first sight at the homecoming game, there caused by getting drunk at a party and ending up making out or worse. Relationships these days are determined by how much they do. If teens are having sex they must be in love. People don't realize that you don't have to have sex to be in love. You should love the person to have sex but you don't need to have sex unless you are married to that person and are dedicated to spend the rest of your life with that one person.
There is a lot of pressure to have sex especially in girls. All girls want to be liked and sometimes they will do things they shouldn't to get that feeling. Girls can sometimes be fooled easily. They will believe a guy when he says he loves them, when he really just wants to do it. Those are guys; most guys just want to have sex. If you are lucky you find a guy that respects you and likes you because of you and not because of your body. A lot of teenagers these days are having sex and most don't regret it they think there in love and they say they will get married some day. The truth is we are too young to be in the love that you need to be to have sex. I believe in young love but it's not strong enough to lead to marriage and commitment. We are teenagers, were young and stupid. But what teenagers don't realize is that having sex especially as a teenager is a stupid act that has series consequences. Pregnancy is a serious consequence that can change a persons life forever. Your life has to start over because you brought another life to the world. Most teenage girls say its wont happen. Not if you used a condom and or you were using birth control. That is not true there is nothing that protects you 100% from getting pregnant.
I've been talking about teens that made the choice to have sex but most teens don't make the choice. Some are taken advantage of and raped because of drugs and alcohol. STD's and pregnancies is a big problem in this world. Sex leads to guilt and regret in some and foolishness and ignorance in others. All of the bad things are all linked together somehow. Drugs and alcohol can lead to sex and the other way around. Sex and pressure are also connected.
Being in high school allows you to experience many things, positives and negatives. It allows you to make new friends, learn, and start taking on responsibility. There are many negative pressures that will come upon you like sex but it's your responsibility to make the right choice and say NO.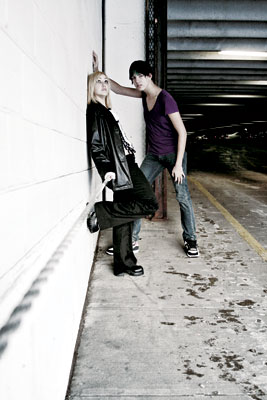 © Jessica F., Bradford, MA