Ladies: Don't Settle
August 12, 2010
I cannot begin to say how sick and tired I am of hearing/reading about "looking for a good time" or dating "just because".



You don't...or I should say, SHOULDN'T...date "just because" or to look for a "good time"...if you're doing that, go to your local club, go online to chat up some "hot singles" and ask meet up somewhere.

Dating should be about getting together and getting to know that person you really like and care for, and to see if maybe you two can share a future together.



It's so rare to find a guy who actually dates for the right reasons, and not to get in a girls' pants and I've found that is one of the reasons a lot of girls have lowered their standards.



LADIES, I CANNOT STRESS THIS ENOUGH: DO. NOT. SETTLE.



So many of us girls today look around at the guys we know/we used to like and think "well, he's not Mr. Perfect, but he's here right now."....NO!

We can't sit around and settle for someone just because they're here or they throw a few compliments in our ear.

We need to be setting our standards and making sure we know just what we want in a man. Not only that...but what we NEED.



A lot of you who have grown up in church have probably been told by your youth leaders/pastors to make a list of all the important qualities you want your future husband to have.

You will most likely get told by someone someday that the list is absolutely ludicrous and you cannot hold such high standards and that nobody is perfect....



DON'T LISTEN TO THIS. I was told this and started to believe it. IT IS NOT TRUE.



God has that special someone for you...and just for you. Are they perfect? No. Nobody is. But they're perfect for YOU!



If you're with someone and you're not happy with them...DON'T STAY!! Get out of that relationship ASAP.

You don't need to be with someone who is going to bring you down and keep you there. You need someone who is going to support you always in everything you do and help you in whatever you need.



If you're with someone and they complain about how you act/react/are about certain things....DO NOT [I repeat] DO NOT CHANGE!! I know it's so silly and we always think, "That's silly. Of course I won't change for anyone...especially a guy. I'm me, and that's who I will always be!", but believe me it is SO much easier said than done. And once you get so involved with someone, you start to get the mind-set that you will do absolutely anything for them. And soon, once they complain about one thing, you start to notice it, get paranoid, and try to change.



But why do that? Why change yourself for someone who is obviously not happy with you?

If they were happy, they would not be [basically] asking you to change yourself for them.



It's sometimes hard to believe, but there IS someone out there for you. And they WILL love you for who YOU are. Not who they WANT you to be.



I stumbled upon this quote said by the very own John Mayer and I thought it was great:

"Sometimes you have to throw in the towel and call that 're-occurring flaw' a character trait. Someone will love it."

DO NOT CHANGE FOR ANYBODY.



I think it is so important that us girls stick together when it comes to these things and find someone to make an acountability partner. Someone that will be praying for you and with you that you find the right man, and that you will make the right decisions in the relationship.



So make that list of standards, and keep it. Pray for your future spouse, and keep faith. Make way with the right people, and stay close to your true friends.



Let's end this "settling for less" era.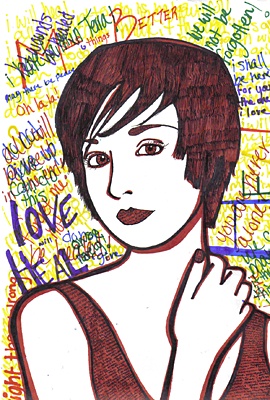 © Sara D., Aiken, SC