What is love?
June 18, 2012
Sometimes I wonder if love exists. Many people, the majority I think would say yes, but does it really? For everyone? Now I'm only fourteen. As I read in an amazing poem somewhere, "I am only fourteen, that's fourteen years young." Now I don't know everything. Given the amount of knowledge in the world, I'd say I know almost nothing. But I do know a thing or two about love. Cliche, but true. But maybe not. I know that I love big, with my whole heart, and there for get hurt. Quite a bit actually. I know what it looks like to see two people so completely in love that nothing else in the world matters. I know what it looks like when someone gets there heart broken. I may even know what it feels like, but I will most likely be told I don't as soon as I say something close.

I know the look of someone who is wanting the love of that one person they are closest to, but is still denied the piece of ambrosia they are longing for. I know poems on love, books, songs, personal stories, even those little show intros you see to game shows. I =know that hearts obscure everything on valentines day, and that the world, at one point or another, believes that love will come to everyone.

Now, all in all, that's not much. I don't know what love feels like, true love, the kind that rips you apart inside and leave you a mess, but is something you need so badly that without it you would go insane. But I've seen it. I don't know what it feels like to have your heart ripped out by someone and trampled into a billion pieces by the one you want, but maybe I have. Who knows?
All I know, is that love is but one mystery of life. It's said to exists, and many have found it. But it is still a mystery to the rest of the population, only found in tantalizing pieces, playing hide and go seek with your heart.

So go seek. Somewhere, we hope, and that's all we can do, that love will find you. Go seek.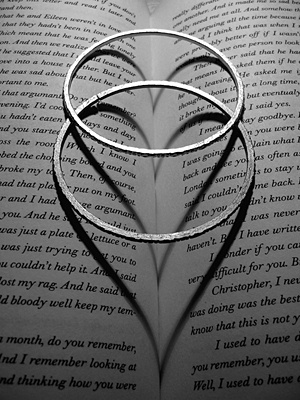 © Julia K., Old Tappan, NJ