Rules For Dating a Writer
June 17, 2013
Rules For Dating a Writer

1)
We're usually relatively picky, so if you meet our requirements, congratulations.

2)
We're always thinking of writing, so forgive us for suddenly breaking off conversation and letting our imaginations run rampant.

3)
Sometimes, we can't help but voice our opinion on some obnoxiously clichéd thing.

4)
We have over active
imaginations. It's an occupational hazard, so when you don't call, of course we assume you're cheating.

5)
Don't ask us anything important while we are writing; WE ARE NOT LISTENING.

6)
As much as we hate to admit it, YES, we overthink A LOT. So bear with us.

7)
Sometimes, we can't help but be insecure. So we often create a more flattering version of ourselves on paper; look at us like we ARE the best version of our self.

8)
Don't piss us off. You WILL become a story/ written article somewhere.

9)
We all have a soft spot for something we WON'T tell you about. You'll have to look at our writing to figure it out.

10)
Overall, just remember that we make stories for ourselves. Be that person that goes the extra mile for us to make OUR fairytale come true.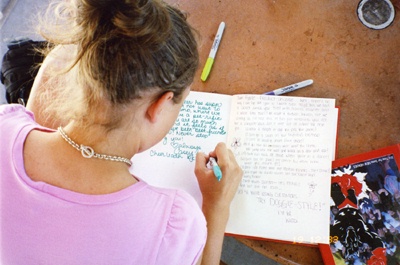 © Jessica S., Pheonix, AZ