Teen-age girl's appearance and the effects on their self esteem…
February 22, 2010
These days' teen girls lack something very important, self esteem. A majority of teen girls try to fit in by having the hottest clothing, perfect hair, and perfect bodies; while also trying to be cool, and popular. They do this in order to fit in. They worry more about their appearance, instead of working on their school work. Their concentration is on their bodies and clothing. A recent survey was taken in a school, and here are the results...

•
59% of 5–12th grade girls in one survey were dissatisfied with their body shape.
•
20–40% of girls begin dieting at age 10.
•
By 15, girls are twice as likely to become depressed than boys.
•
Among 5–12th graders, 47% said they wanted to lose weight because of magazine pictures.
•
Health risks accompany girls' drop in self-esteem due to risky eating habits, depression, and unwanted pregnancy.
•
Girls aged 10 and 12 (tweens) are confronted with "teen" issues such as dating and sex, at increasingly earlier ages.
•
73% of 8–12–year olds dress like teens and talk like teens.


Many people are surprised by the results. Girls low self esteem, worries many teachers and parents. The question is, why does their self esteem change, why they lack it, and why they focus on their physical appearance? Some experts conclude that a pre - teens focus shifts, the body becomes an all consuming passion, and that is their main focus. "Self-esteem becomes too closely tied to physical attributes; girls feel they can't measure up to society standards." Significantly, girls are rushing to get whatever the other teen girls are getting, while affecting their self esteem. Quoted from an article by Anita Gurian, Ph.D.


The attitude of teen girls who think that they do not have perfect hair, perfect bodies, or perfect clothing can wreak havoc on a teen girl's self esteem. Importantly, the question is how can we help them raise their self esteem? Some opinions from experts and stay at home moms are, "Watch your own stereotypes; let daughters help fix the kitchen sink and let sons help make dinner." Self esteem matters a lot, it is your courage, your confidence, and it is self respect in yourself.
For decades teen girls all over the world have lacked self esteem. Some girls will let people put them down and they will not stand up for themselves They need to realize that we are all unique individuals, and don't have to be a copy. Hopefully things will change and get better. It's obvious that we need to take some action, and help teen girls understand that looks don't always matter. What matters is on the inside, your character and how you treat people; not having the perfect body, or perfect hair, but your inner beauty.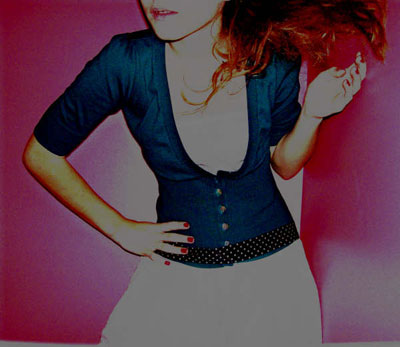 © Jenna V., Hamilton, ON, Canada