Falling In Love With Shawty and Other Great Ideas
April 17, 2010
Hello. I am a teenager just like you, unless you are a creeper, in which case stop creeping. I would like to talk to all of you about something that has been bugging me for a long time – pop music.

Pop music's all around us: in the car, in stores, blaring out of stereos. We've come to almost not notice it unless we decided to really listen. Well, let's just be grateful for this, because the less you listen, the better. I'll be the first to admit that I fall into the pop trap at times, just like many. I've been caught listening to Lady Gaga or Jay-Z. But especially lately, I've started to notice a real trend in this genre of music. And it sure isn't good.

First reason: A large majority of pop and such music disrespects women. For example, a song I heard the other day claimed, "I fell in love with shawty when I saw her on the dance floor." First of all, "shawty" is such a low-respect name to call a woman. If you really love her, you'll call her by her name, or at least something besides "shawty." According to Urban Dictionary, "shawty" really means a woman's butt. Nice nickname, huh? This rapper then goes on to describe her "pow-pow-pow" butt and her "wow-oh-wow" breasts. Enough said. Second of all, I very, very highly doubt this rapper could have fallen in love with "shawty" by just seeing her dance like a s*** – in fact, "shawty" is probably on a stripper pole. Or in the song "Carry Out", the rapper goes on and on about how he wants to "get it down" with the girl, and then he asks her name – halfway through the song!

Artists often are under the impression that love means having sex. It does not. Like Rihanna implies, the verb "love" now means "have sex with me". Ke$ha, in one of her songs, disrespects women in a different way in her song "Blah Blah Blah", saying "I just want to dance with no pants on", "turn around boy, let me hit that", "I want to be naked, and you're wasted", etc. But don't get me wrong. Having sex in the back of a bar with a wasted guy who doesn't even know your name is totally my idea of a good time.

Another example of disrespecting women comes from the song "Sexy Bitch" – the title already shows how bad it is. It literally goes like this: "She's nothing like a girl you've ever seen before. Nothing you can compare to your neighborhood w****. I'm trying to find the words to describe this girl without being disrespectful. Damn, you is a sexy bitch." I'd say that would be a failed attempt at describing the girl without being disrespectful.

Second reason why I don't like pop and rap: The rappers have huge egos. Ever listened to the song Do You Remember? I can't even listen to it because the beginning is completely clogged with rappers shouting out their names. Or the song "Yella Habibi" by Karl Wolff: he says his name twice in the song, once at the beginning and once at the end. In fact, he doesn't just say his name – he says "the one and only . . . Karl Wolff! Karl Wolff! Karl Wolff!", echo and everything. Even Rihanna succumbs to it in one of her songs – "that Rihanna rain just won't let up". It's ridiculous. What happened to the time when artists didn't have to declare their names within the songs? Maybe they think they need to shout their names to get recognition, but really, artists previous to the rapping generation got quite enough recognition without putting their names in their songs because their music was so good. If a song is good enough, chances are you'll be able to remember who it's by.

Third reason: the music isn't even very good. Now, I know a lot of you really like rap and pop, and you're allowed to, but personally, there's nothing for me to like about it. The music is unoriginal – in a large amount of rap/pop, there aren't even any real instruments; the lyrics are often bad, as stated; and the singing is also bad, but it's okay, because rappers and pop singers can simply fix their bad singing voices with computers, defeating the purpose of music! I can't even tell most songs like this apart.

So you now see why I don't like a lot of modern music. Don't get me wrong, I'm not in the Stone Age. There are some gems out there – take Thriving Ivory, for instance. I also love Taylor Swift and Boys Like Girls. But in general, this genre of music leaves a lot to be desired. And please, if you may, take my advice: if you hear both "shawty" and "dance floor" in the first minute of a song, don't waste your time.

Take this line from a Stereos song: "Let's drop the top and show the world just how you drive me crazy."

I'd rather not. If you don't mind, Stereos, keep the craziness to yourself.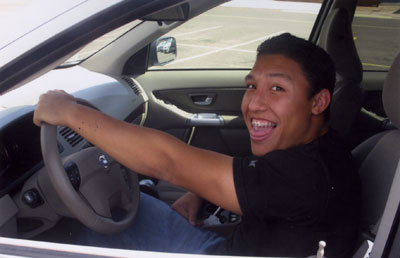 © John H., Phoenix, AZ