High school: Too old for trick-or-treating?
December 14, 2011
Ding-dong. With the last echo of the doorbell, Grandma Betty stands and shuffles to the door. Clutching her camera in her lightly-shaking fists, she smiles to herself; she loves this holiday. All the little kids look so adorable when they wear their homemade outfits, and it's always so much fun to meet neighbors and their children, especially when they are new to the area. Grandma Betty gladly picks up the bowl of candy for the youngsters. Opening the door, she stops dead in her tracks, almost dropping her camera in surprise. Looming high above her are three high school-aged boys, wearing apathetically-ruffled semblances of costumes, shifting their pillowcases that are almost full of candy. "Trick-or-treat."

Let's face it. Once teens are in high school, they are too old to be trick-or-treating. When the people passing out candy are intimidated just by the mere size of the trick-or-treaters, it's time to take off the costume and call it a night. We are no longer at the age when going door-to-door is acceptable. The only time high school students should handle candy is if they have younger siblings they take out or if they want to pass it out at their homes.

Even if the high school student in question isn't that tall or threatening, one has to draw the line somewhere, and for many cities, that line is supposed to be 13 years old. In fact, around the country, some cities have begun instating laws that prevent most teens from trick-or-treating. In fact, the city Newport News, Va. has a law saying one can be fined up to $250 for overage trick-or-treating (people older than 13).

There are plenty of other activities that high school students can do on Halloween, so save the candy for the youngsters. Rather than giving poor Grandma Betty a heart attack, students should take the opportunity to go out and do something. After 10 or more years of trick-or-treating, wouldn't it be fun to go out and do something different?

Compared to walking around a well-lit city asking for candy alongside four- and five-year-olds, exploring dark, strobe light-filled haunted houses with several screaming friends sounds much more enjoyable. Not a big fan of getting scared? Going to a costume party is a great alternative. Either way, the fun of Halloween does not have to be lost when one doesn't go trick-or-treating, rather, it can be experienced in a new, exciting way.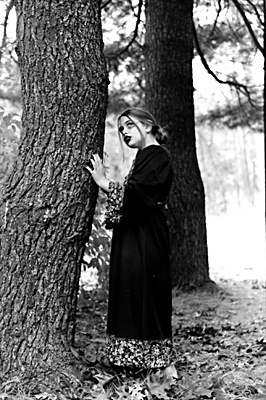 © Pamela T., Norwalk, CT