Goodbye future...
March 26, 2009
Ever since I was a little girl I have been asked, "What do you want to be when you grow up?" How am I supposed to answer this question? So many variables are affecting our future that it is almost impossible to answer said question. Our generation has been put in one of the worst economic situations since the great depression. We are no longer sure of the future of our nation, as we watch huge franchises close, including prominently known banks. We cannot plan our futures or careers without knowing if there will even be anything to plan for.
Besides our economic downfall, we have been showered with hundreds of "scientific proven" events that the earth will end. One of these being that the earth is expected to collide with a meteor in 2020, destroying the earth. Before we get too nervous, though, they have given us more time by moving it somehow. They have also predicted an earth quake so large that California will separate from the United States. With all of these looming death threats, how are we supposed to be thinking of a way to make ourselves happy in a future that seems to be only a dream?
College is looming ahead of us, asking for our grades, extra-curricula's, volunteer hours, enthusiasm, anything and everything we can give, when most people can't even afford to go to college anymore. Never mind that we are the baby boom children and now have the largest number of students applying college then ever before. Anyone born from 1991-1992 is expected to have a tough time getting in to the college of their choice. So in answering that fateful question asked at most dinner parties, schools, and the occasional grocery store, I may know what I want to be, but I have no idea if what I want is what will happen.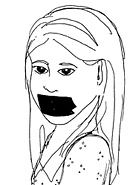 © Liza M., Vineland, NJ