Dress of the Day
December 7, 2014
I was watching a comedy show when a woman with blonde hair appeared on the screen. She was only wearing a swimsuit amidst the throng of men. Then, my face immediately frowned not only because of the rudeness but also of the design of her attire. It was vividly similar to the flag of a certain country.
That time, I was aware of that flag because in my junior year, my History teacher tasked us to visually familiarize the flags of different countries. Hence, I learned a lot about flags and even their purpose and importance. So, after I saw that particular scene, a question emerged and twisted my nerves: "Was it acceptable in their country?"
I asked my teacher about this. He answered: "Some countries allow this kind of action. People in these countries are 'liberated' and free to do anything they want except crimes". But what he said did not ring any bells. I wasn't convinced.
Freedom, for me, means doing rightly what we want. It isn't about doing freely anything even it's wrong. And using a country's flag as a clothing seems not right. If it isn't a crime, it's blasphemy. If it's of no importance, a flag means everything to me.
A flag embodies a country's identity. Wherever there are boxing competitions, each boxer's flag is being raised behind him as he is recognized. Consequently, we become aware of what country he comes from. Moreover, before the match starts, the boxer's national anthem is being sung. The song is intended to the country, but because the singer can't bring the country in the boxing arena, the flag is being brought instead.
It also speaks of history. It has been a witness of countless wars, truces and calls for peace. How a flag looks today is a craft of time, a vision of its weavers and a hope of our forbears. It has endured numerous revisions and changes until it is raised in the pole. Every symbol has a story to tell. Every line portrays a significant meaning. Thus, a flag is a memento to be respected. Has the world forgotten about it?
No. It isn't. In the Philippines and other countries, showing disrespect to their flag is punishable. Anyone caught tearing, burning or wearing their flag will cost so much of himself. It is either caging himself behind steel bars or emptying his wallet.
I understand what self-expression is, but expressing oneself in a disrespectful manner isn't acceptable. Countries allowing what the woman did with her flag shan't be tolerated. Remember that a flag isn't a garment to be worn, not a toy to be played, nor a waste to be thrown. Yes, we're free but we have limits.
Let's make our flag, the cloak of our soul; not the dress of the day!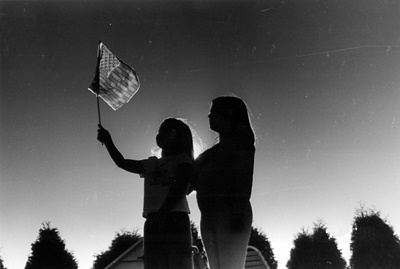 © Amanda T., Marblehead, MA