Wide Awake
January 29, 2015
   I am waking. The time of waking is sudden and fresh in my mind. Sadly, it is my time to stop thinking and overanalyzing. The truth is the truth, and there is no way around it.
   It's sad to have ever thought that my wishes would ever come true. In fact, it will never happen, since all my hopes weren't worth it since they were just too much of a fantasy. Fantastical imaginations and hopes just really wasn't worth my time. I mean, it was never worth it anyway, sadly.
   It's time for me to grow up, and just accept how things really are in the world. Being knowledgeable in reality is better than acting all innocent and pure, since being aware of the truths, lies, and mutiny levels are valid for the succession of future children's lives. It is always better for teaching your child how to survive in the woods of horror, danger, and frusteration.
   Yes, it is true that being optimistic is better than being pessimistic. But, the people who are pessimistic are the ones who are weak, since they are ones whoom contain emotions that are expressive, while the optimistic people are the ones whom hide their deepest, darkest, and invid emotions inside. Optimistic people, on the other hand, also have to try hard to plaster a smile on their faces, while their burning emotions are boiling inside.
    True, I'm not saying or putting a label on everyone, but that's just what I am going through right now. And I hope that all you future leaders can understand. Everybody is special and unique out there, and if you can dig deep into the midst of the dangerous world and claw back out, you are very powerful indeed. Reality is an allegorical comparison to the deep, dark, and mysterious woods, and if you can survive, you can survive anything.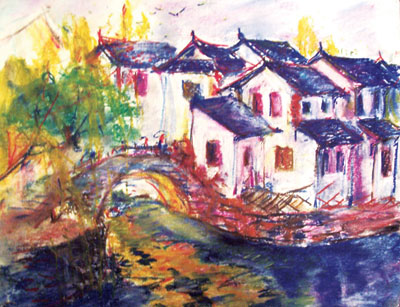 © Xiao H., Naperville, IL