And I Stayed Silent
January 8, 2019
"Last call for flight 5773 to Fort Lauderdale!" I nervously checked my watch as I waited for the cash register to ring up my sandwich. As I was handed my bag of food I smiled at the memories of a weekend at Disney with my family - one that transported me to my childhood and took me back to the days when nothing mattered except the prospect of taking a photo with Mickey. But now that we were headed home, I already felt the responsibilities of my pre-adult life pushing on my shoulders. Responsibilities that I would soon realize included preserving and defending the religion I was born into.
Just as I began to walk to my gate I was pulled out of my thoughts and into the shocking reality of our country.
"Thank goodness they got rid of all the Jews!" My heart stopped, and my legs grew week. I took a second look and stared at the table from where those words had emerged. Seated in the center of the Orlando airport food court was a group of six, humorously discussing the murder of my people. I felt frozen in time - as if the hustle and bustle of airport transit disappeared, and all that was left in that atrium were those six strangers and myself. Their piercing laughs grew louder as one by one they attempted to outdo each other with anti-Semitic jokes about the liquidation of German villages during the Holocaust. I reached for the Star of David on my necklace, rubbing it for encouragement, but I remained alone. As one of the women recovered from an especially intense bout of laughter, I caught her eye and stared at her. In my head I told her: Do you know who I am? Do you know what you're saying? Do you know why you're filled with such hate? But my lips remained sealed and those words stayed caught in the dizzying spin of my head.
It was Sunday October 28th, one day after the murder of eleven Jews at the Tree of Life Synagogue in Pittsburgh Pennsylvania by an armed white nationalist. And I stayed silent.
My guilt has followed me for weeks, biting at my heels, and breathing down my neck. All my life I've been taught to stand up to hate, and the day after a hate crime I chose the opposite. As I thought deeply about my decision and spoke with my Rabbi at school, I realized that there is more to standing up to hate and standing up for Judaism then simply engaging with those who will never change their minds.
In order to diminish anti-Semitism within our communities, Jewish pride must be increased. The prejudiced and oppressive only prevail when they succeed in lowering confidence and morale. In my case, they did not succeed. Although I lacked the courage to resist hatred in that moment, I have returned home with a new sense of purpose. I feel that one of my responsibilities as a young Jew is to preserve my religion and encourage Jews to love being Jewish. The more we embrace our differences and celebrate our traditions the stronger and more unified we are as a people. For over two thousand years the Jewish Nation has been oppressed, enslaved, and systematically murdered. Yet, today, although small in numbers, we are here. We are here and able to freely practice our religion. Therefore, we must embrace this freedom.
I have been lucky enough to grow up in a home where all holidays are celebrated and have attended a school in which I am reminded each and every day about my culture and beliefs - but not all Jews had this opportunity. That day, in the airport, I stepped out of the bubble of my community, and saw the shocking reality of our country. Freedom of religion can be revoked by simple words or deadly bullets. Either way, we must not allow our freedom to be taken away by fear. Hatred is a component of the human nature that will never disappear, but pride and confidence can be created by taking part in traditions, educating your children, and highlighting your differences. By allowing your pride to overcome others' hatred it is evident that discrimination such as ant-Semitism will be visibly diminished by virtue of unity and strength.
So now as I stand before the Shabbat candles with my family by my side, nearly two weeks after the Pittsburgh shooting and overheard conversation in the airport, I remember why they are lit. They are lit because I am still here, a free Jewish-American woman, after all the oppression my people have faced. The three generations of Jews at the table alongside me hold testament to that fact. Going forward, as I participate in holidays and Jewish traditions it's important that I remind myself of the deeper meaning and long term impact of my actions. One day, I hope that I can sit around the Shabbat table with three new generations of Jews by my side - pride in our hearts, embracing our freedom, untouchable by hatred.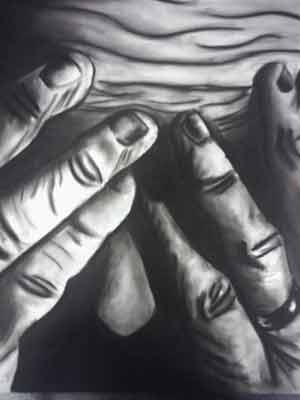 © Kirstin A., Baldwinsville,NY