Take it seriously? Heck yes.
May 21, 2011
About a week ago, I had a discussion with a friend of mine. The discussion, about how I completely and fundamentally disagree with the homosexual choice, turned into an argument about whether or not the Bible was meant to be taken literally.

At the time of this discussion, I was a bit flabbergasted. Not take the Bible literally? Why on earth would I do that? I just didn't understand my friend's challenge.

I kept on thinking about that question all day long and did some research. I also thought about this: if my dad had told me to not walk out onto the middle of the freeway because I'd get hit by a car, it would be completely reasonable of me to say, "Yes, dad, I won't do that." What if, however, I chose to say, "Why dad, what a lovely story! I'll have to remember that story to tell to my intellectual friends," and promptly went to the freeway and got run over? This is a strange illustration, I know, but it makes a point: why, if we believe in God at ALL, would we disregard any word he says and only say, "what a nice story"?

The Bible, if you read it, is not one long morality tale, as my friend claims. When Jesus came to earth, he did not give people a long list of rules to follow to be moral. See, there's a big problem with religion. Strange as it may sound, Jesus hated religion. He wanted to have a real relationship with humanity, not a religious bartering system: "God, I'll do such-and-such for you if you give me this thing I desire. Amen." I hardly have to ask if there was love in that prayer.

This is the problem with religion that Jesus has. Anybody can do good things, but what does that have to do with their relationship with God? Religion makes living a good life become a checklist, allowing us to forget about how humanity needs help and love. If God created us, our priority in life should be getting to know him. Instead, though, we all make this one mistake: we try to do enough good, nice stuff that we think we're good enough that we don't need God to help us. Contrary to what lots of people say, the Bible doesn't say that every "good" person goes to heaven. In fact, the Bible even says that NO person is "good"! This blows morality out of the water. What does morality mean if we use it as a way to ignore a loving God who wants to get to know us?

According to the Bible, God wants a real relationship, not a moral life. This isn't to say that we should spend our time being as immoral as we possibly can, but God cares about knowing us more than about whether or not we filled out that moral checklist of things to do.

What does this have to do with taking the Bible literally versus it being a nice fairy tale? Everything. If the Bible is in any way true, which I fully believe, then God exists and wants to know us. If we are his children, why would we ignore any of the things he says to us? Would we ignore his warnings? Ignore his love?

The Bible is written to be more than a morality tale. If any one word in it is true, then so is the rest. I believe the Bible is without error, so I can't try to live my life in defiance of that truth.

Do I take the Bible seriously? Heck yes.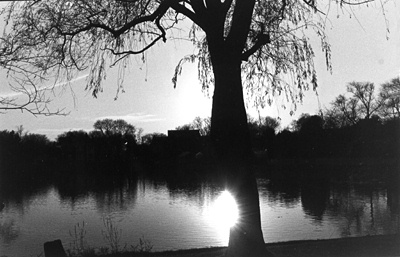 © Chuck K., Marblehead, MA