Why Competitive Sports are Detrimental for the Health of our Youth
April 7, 2021
Competitive Sports Are Damaging Our Children Period 2
Some think that competitive sports are not healthy for adolescents and are too competitive for their age, but others argue that many parents want their children to experience competition and learn beneficial things like teamwork and cooperation. However, what should be the ideal "healthy" competition in sports? Should we keep pressure the same on a 5-year-old and 13-year-old soccer player? Should we try to push our children to make them one of the gifted few who make the professionals? Research illustrates that competitive sports damage a child's physical and mental development. The research also shows that because of the common situations in sports children are prone to life-long injuries, the situations where the pressure for kids to strive is nearly identical to professionals. Additionally, competitive sports aren't the ideal way to lower health problems like childhood obesity.
An important reason why a child's physical and mental development is damaged is the common situation in which children are more prone to life-long injuries from taking part in competitive sports at an early age. According to the New York Times, "A new format created by USA Football, the governing body for the amateur sport, aims to reduce the violence and head banging of tackle football for youngsters by shrinking the field… There's concern among parents about when is the right age to start playing tackle, if at all." This illustrates how common injuries are present in youth sports like football and that youth competitive sports are so competitive that children commonly injure themselves. Injuries were so common that almost the whole format had to be changed. Also, "Parents have... paid closer attention to researchers' warnings that the formative years leave youths particularly susceptible to brain trauma from head-snapping tackles. Participation in tackle football for boys ages 6 to 12 has dropped nearly 20 percent since 2009." This illustrates that scientists aren't the only ones who believe children are more prone to life-long injuries with this extreme competition. Parents also share their beliefs. In addition, "Men retired from their playing days in the National Football League have experienced dementia, memory loss and suicidal depression." This helps to illustrate that even when a few gifted players are able to cope with the pressure and make the big-time leagues like the NFL, many professionals are forced into retirement with severe physical and mental injuries due to their early childhood exposure to competitive sports.
A second reason a child's physical and mental development is damaged is that the pressure for kids to strive is nearly identical to professionals. According to the New York Times, "Like most parents, I wanted my child to experience competition and learn the lessons that sports teach… But when Will voiced his fears, I woke up. This was one of those moments that could have changed the lives of the children I've been reading about, kids who played through pain and got seriously hurt." This account illustrates a concerned parent who realized how competitive sports were putting his child in stressful and harmful situations at an early age. Also, according to NBCNews, "Recently, one of her players, a 7-year-old boy, hit the boards during an indoor game and was holding his head. His father, a former soccer player himself, went over to the boy but rather than asking him how he was feeling, scolded him for playing poorly. A week later, his mother called him over after a play and she, too, sharply criticized him. 'He was sobbing,' Enmark says." This illustrates how parents and coaches often can damage a child with their harsh criticism. However, one could argue that criticism can be beneficial if it is constructive. Competitive sports, however, lack this constructive criticism and instead have harsh criticism. In addition, "With more kids than ever in organized sports, an estimated 30 million of them up through high school, Metzl and other experts in sports medicine and youth athletics say they are increasingly concerned about the pressures put on some children to excel. Not only are these youngsters at risk for emotional burnout, but they may also develop injuries that plague them for a lifetime. Some will turn to steroids or other performance-enhancing substances to try to gain an edge. And some may give up on sports -– and exercise -- altogether." This illustrates how parents are realizing that pressure that is exerted in these sports changes your child's perseverance. This will cause them to either get damaged or be damaged from performance-enhancing drugs, dementia, anxiety, suicidal depression, and many more health issues.
Furthermore, competitive sports are often thought as the ideal way to lower health problems like childhood obesity, however, there can be other ways that would be just as beneficial. According to the New York Times, "Teenagers can significantly lower their likelihood of being overweight or obese by walking or biking to school and playing on at least one high school sports team..., a new study suggests." This illustrates the excessive rate competitive sports are not needed to be played to help lower obesity. Also, "Not every student can make the varsity baseball or basketball team, Dr. Drake said, but there are other ways — like playing intramural or club sports, or joining a dance or gymnastics team — for children to get strenuous exercise." This also illustrates that competitive sports do not have to be the main way children get strenuous exercise to lower obesity. You could still be healthy by for example playing intramural sports. You would have fun without feeling pressured and still get the same benefits. Furthermore, "As for more organized activities, about 17 percent of the students played on one sports team, 18 percent played on two, and 35 percent were on three or more. The study revealed a dose-response relationship: the greater the participation level in organized sports, the lower the risk of being overweight or obese. The trend became most significant when students played on at least two teams, representative of year-round participation in sports." This illustrates that more than ¾ children don't play competitive sports due to their harmful effects. Even the kids who do still only lower their risk of obesity and don't eliminate it.
Although one can argue that competitive sports can have a detrimental health impact, adolescents shouldn't stop playing sports. Children playing fewer and fewer sports has led to one of our generation's biggest problems: obesity. Pressurizing kids in our generation and damaging them is wrong, however, we shouldn't let our kids in our generation just quit all sports. This is where substitutes like intramurals come into play. 21st-century children can get all the same health benefits from competitive sports and not have as harsh of a negative health impact. Substitutes like intramurals are almost certainly one of the main solutions to solving our generation's global health issue of obesity.
Works Cited
"Are You Ready for Some Flag Football?" The New York Times. The New York Times, 04 Feb. 2017. Web. 17 Mar. 2019.

Cohen, Adam Buckley. "Listening to a Son's Concern About a Concussion." The New York Times. The New York Times, 28 Nov. 2009. Web. 17 Nov. 2020.

Connor, Anahad, O. "Sports Promote Healthy Weight in Teenagers." The New York Times. The New York Times, 17 July 2012. Web. 17 Nov. 2020.

Stenson, Jacqueline. "Pushing Too Hard Too Young." NBCNews.com. NBCUniversal News Group, 29 Apr. 2004. Web. 17 Nov. 2020.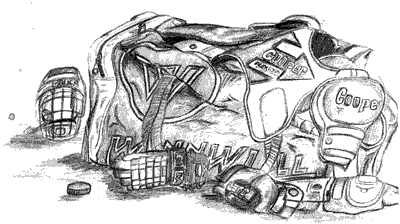 © by Casey C., Rockport, ME