A Broken Heart Can Mend...
April 28, 2009
What does it feel like,
To have your heart still beating,
Mine is as cold as ice,
Sharp as needles,
And hard as stone,
Will you hold it in your hands,
And warm it up for me,
While I sit there,
Silent and waiting,
Till I can hear the sounds,
For what they truly are,
When will these visions,
Stop plaguing my sight,
When will the world end,
For me that is,
You shall live on with the rest of them,
Those who hate me and call me names,
Behind my back,
But I don't care,
I'm too tired to feel,
I feel like going to sleep,
And watch the world go by,
As the buildings and people alike,
Are corrupted over time,
This moment in space,
Can be seen as folly,
If I say who I know,
It just goes to show,
You need me less than I need you.

The rains have come,
As I sit beneath a tree,
The thunder and lightning try,
To shake me to the core,
But they are something,
That means nothing to me,
I cry silently,
But I try to hide it,
Making the excuse that it's just the rain falling,
But you see past my lies and know the truth,
As clear as day to you.

You walk along the sodden path,
And come upon a boy,
About your age,
Sitting under a tree,
Raindrops falling on his head,
You need not worry about yourself,
You have an aura about your form,
And the rain turns to snow,
That then settles on your raven locks,
Your pale, ivory skin seems to glow,
With an unearthly light,
You reach out to the boy,
And he reluctantly takes it,
You pull him up from the ground,
And hold him close,
His reluctance turns to gratefulness,
As he pulls you closer,
Sharing the moment together,
Suddenly the rain stops and the sun shines,
And sets a beam ablaze,
Through the clouds that once were,
But are now no more.

I thank you,
For all you have given me,
I just wish,
I could have done the same...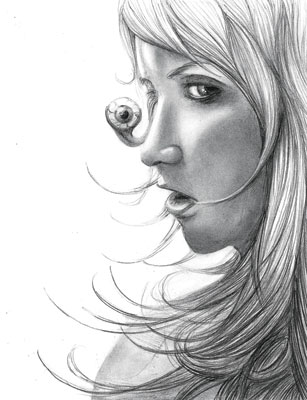 © Jessica P., Bethel Park, PA