Sliced Evening
May 11, 2009
Run wild against the "cant's"
Like liquid. Slender
Dirt showers leave nothing to hide.
Teach what works
While bruises blossom
Like people on the page of a newspaper.
They turn their heads – they have their own dark morning to deal with.
Carve your wish inside the cave of your heart:
WANT. OUT.
Glass protrudes from dry skin and you land in the hospital room but still!
No bouquet here.
Consume your memories
And burn your dreams
Keep the ashes for day use
Because as soon as they turn into nightmares, you have a
Pronounced secret.
You will stagger along empty halls
Blue love song eyes with no connection, no
Lace from him.
Meet god in the avenue. You have a minute.
It's summer
The sunset creates a sliced red evening.
It's immense.
Hazed.
Wake up.
And breathe.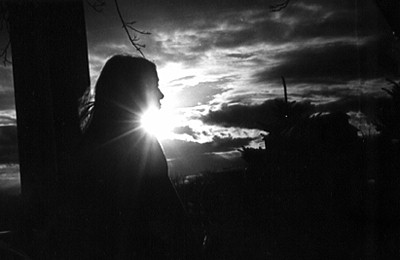 © Elizabeth G., Marblehead, MA