Crying on the Inside
May 13, 2009
All you'll ever see are the tears from my eyes
All the sorrows of pain that i have ever cried.
All the people telling me who i should be, having no faith in who i wanna be.
It's ten times as bad for you to judge me
The last thing i need is your pathetic sympathy.
When you look into my eyes you'll see right through my heart, beacause when i cry i bleed from a far.
The pain burns inside me more and more.
Iknow the bleeding will never stop
Of this i'm sure.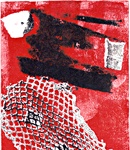 © John K., Wayland, MA