Dirty Deepness
May 14, 2009
I'm alive in this cycle
Of infatuation
For you
And you and you.
And two plus two doesn't even make sense anymore.
You make me wonder.
Shivering,
I jump into the water.
The dirty deepness
Screams in my ears
To let go.
Holding me down
And pulling me backward;
Every direction
That I don't care to go.
My throat is sore from my
Screaming out to you.
I am insensitive!
I am here dying
but forgetting to ask about you.
How selfish!
The scarcity of the words I can remember scares me,
But I know I have time for some last ones.
"I love you too."
It bubbles up like fire.
The sarcasm scares you
and blurs out the desire in my voice,
But it was your choice.
Finally you seem to understand.
You know that even as the words fade,
The pain, how it stays,
It's undeniable.
I'm glancing up at the
Astonished look on your face,
Sinking into the incomprehensible darkness which consumes me
Just as you do.
I watch the flames assume you too are dying
And we both were denying
This isn't your fault.
And in this new
infinite darkness
It's funny how clearly I can see your face.
And how evidently I can remember
The kindness you offered me
When we talked on the phone.
The lies in your voice
That I now recall
make me want to throw up.
I feel such hatred at the unjustness
That my bones are breaking under the pressure.
I remember such a loving feeling,
it feel too large to measure.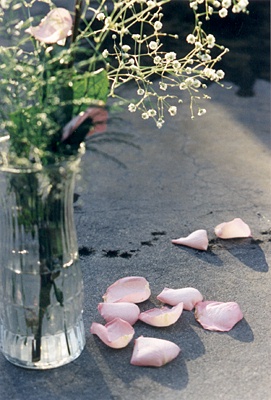 © Mary Amor, Fullerton, CA