Bus Ride
May 18, 2009
I sit against the seat, breathing, causing the window to fog.
Although, it was a long time ago,
I remember it clearly.
Everytime I get on my bus,
I can't help looking in the second to last seat.
Wondering if you'll be there.
To ridicule me.
To be mean.
To make myself feel haunted and despised by what you said.
Because even though you moved away,
your words still stay with me.
Every time I get on the bus.
I remember.
I lean my head against the cool glass,
the thing holding me hostage,
against my memories.
Holding them in,
letting them simmer like mom's chili.
Rain patters against the metal frame,
making it sound as if they are messengers of my past,
repeating,
over,
and over,
of the words you used to say.
Everytime I got on the bus.
I feel as if there's no justice on a bus as this one.
Otherwise you would have had your punishment long ago.
Wind howls outside as the driver races along the asphalted roads.
Trees pass by in a blur,
obscurred to my vision.
But if you ever do come back,
you'll remember me.
For I'll be the one reminding you,
and I'll look exactly the same.
Skinny and immensely pale.
Tall and blue-eyed.
You'll remember.
Because of all the things you used to say,
described me just as that.
Just a girl,
whos feelings you could hurt,
just because.
Just a girl.
Which made me believe it too.
While everyone laughed all the same.
On your side as always.
The bus comes to a stop.
Time to go,
to leave the lingering past,
to the past.
To forget.
To unwantingly forgive.
But forgiveness all the same.
Because no matter how much I wish to do the same to you,
As you did to me all those years ago,
If it would really come to that.
I wouldn't do it.
Not in a million years when the sun burns out,
when the tectonic plates collide,
combining Asia and Alaska.
Never.
Because almost nothing hurts worse,
than the words stained into the memories of that bus.
On my bus ride.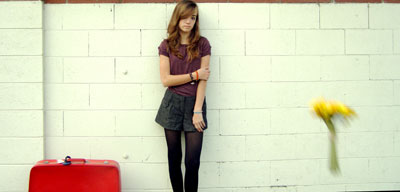 © Austin K., Studio City, CA