Lost-I am found
May 24, 2009
I lay in bed tonight
Frustration hovering over me
Darkness enveloping me int its womb
Cold breezes cooling my heart down

I was hurt
Solidified in the liquid
Of this clean, pure love
I was damaged
Frozen in the wind
Of this hot summer day

I woke up this morning
Headache pounding with pain I can't bear.
Fatigue rising inside the chambers of my body
Awareness completely erased from my head

I was destroyed
Anxious to find a way out of this misery
Anxious to move this sorrow from my heart
I am destroyed

As Dawn stretches her hands across the city,
I, still, lay here in my bed

Thoughtless and completely distant
Empty and color simply, pallid

I've been laying here too long
Dead, only, if you will

Blood halted in my veins
Words long gone-distant as am I

Realizing that I need to progress,
I sat up in my bed

I never knew how fast the world was spinning,
How pieces of my world were falling apart.

Reaching for support, my eyes rose to the window
As beautiful as can be-the sun glistening

There was something there, that captured my attention
Bringing words to my lips

I searched for the right words to speak
But speechless am I still

Suddenly the clouds began to sunder
Revealing a sky so blue

Forcing meaning into my heart
Pounding with excitement and joy

My heart! My heart I could feel.
My head! Thoughts racing in

My soul! Feelings pouring out, tears flowing freely
I am here. I am healed. My blood runs so warm.

I am here. I am healed. My world, I can live.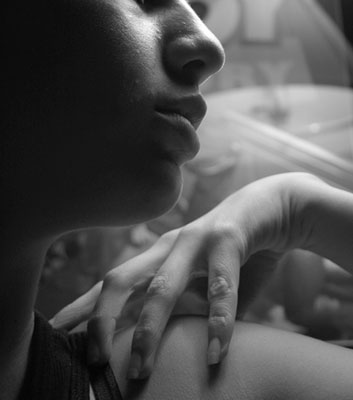 © Rebecca B., Santa Clara, CA