For the Moment
May 24, 2009
I had a dream. A dream no one else could see. A dream that would cause too much perplexity. Words rolling onto the college ruled paper as I fulfill my dream. Praises from outer space as my dream came alive. Forsaking all the treasure, for my dream was alive...For the moment.
Wading into the room. Eyes shooting in every corner, every shadow. Chills creeping through my veins. Shivering, feeling the presence of another. Watching me. Pulse racing, fever rising, tempted to scream. Laying in my bed;unable to speak...For the moment.
Sitting, stressing, shaking. Nervous, waiting for the exam. Mind, thoughts running wild. Answers with no clarity in my head. Looking to the sky for help. The clock ticking and clicking in sync with my heart. Watching people finish around me. Racing, trying to beat time. Unable to complete the question...For the moment.
Anger building up in my body. Body, quivering, shaking the rage. She's all up in my face. Talking trash-pretending she wants to strike. Fire in my eyes, heat burning through my fists. Ready to burn her face. To heal this ache, to release my anger...For the moment.
Lightning streaking through the skies. Rain pounding on the cement. Winds blowing as strong as a hurricane. Thunder roaring, distant, fading. Hail falling-like ice balls. Sirens wailing, sounding, piercing the air, like a needle through my flesh. Trees waving, making dances. Storms crowding the city...For the moment.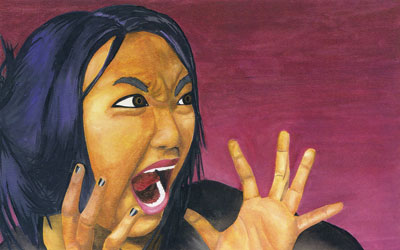 © Lauren S., Forest Hills, NY