NYC
May 24, 2009
The caution tape yellow taxi cab halts, the bearded driver inside slams his fist to the horn,
The buildings here are so tall; they slice through the clouds and pierce the glowing sun,
There are people everywhere on the sidewalk; there isn't a square of cement, not a pebble of gravel that's clear,
There are people with briefcases and coffee; there are people with boom-boxes and soy bars,
This is a place where people create themselves,
This is New York City.

The silver subway cars charging through a river of tunnels,
The lights of Time Square blinding, arresting tourists in mid stride,
There are bookstores bigger than colleges,
There are parlors where the pizza melts onto your jeans and into your heart,
This is a place where things are always bigger and always better,
This is New York City.

The freedom ferry boat taking people to see a statue that stands in the ocean like a beacon,
The hole in the ground where two magnificent towers once stood,
There is a church full of paper cranes and remembrance,
There are walls etched with courageous patriot faces,
This is the place where America fell down hard and learned to get up stronger than she was before,
This is New York City.

The soles of shoes well worn running to and fro, over the path of ambition,
The different colored faces merging into a common purpose to live,
There are Broadway singers sprinting to auditions,
There are entrepreneurs racing to make a dicey deal,
This pace is stirring me to life, this method of living is contagious, this dancing heart of mine must stay,
This place I've only dreamed of, this place I'm standing in now,
This is New York City.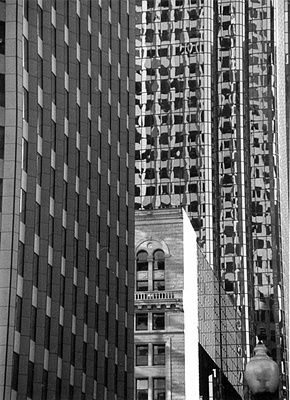 © Natalie D.,Marblehead, MA