Based on a Book
June 10, 2009
In the year 1912 on a cold London day,
I, Margaret Ann Brady, began to pray,
For I was to leave St Abernathy's Orphanage,
A marvelous adventure awaits!

Upon the RMS Titanic destined for a new land,
Mrs. Crastairs said my life shall be grand,
America will be my new home,
There is where I'll find my loving brother!

I am now tucked in bed so snug as a bug,
Thankful for not to be sleeping on a dirty rug,
It is the day before boarding,
In a hotel of luxury and new clothing.

'Creek, thump, bam!' goes the boat,
The passengers are herded on like goats,
We shuffle into a ship of wonder,
The rooms are lovely along with the butler.

Robert, my butler, greets me with a smile,
His smile seems to go on for mile after mile,
He serves me tea and scones on a platter,
Before he must rush off for his other duties.

I will never forget the black as coal night,
When Robert gave me such a fright,
He tumbled through my door,
To help me safely escape the iceburg.

The Titanic was sinking with me upon it,
I didn't even time to grab my bonnet.
I could smell the salt leaking in,
As Robert begged me to return with a final kiss.

I am cold and wet in a little boat fearing for my life,
Wondering what did I do to deserve this strife,
The waves were like monsters trying to swallow us,
Many of the passengers lost their lives.

Finally I am safely on land,
My loving brother is holding my hand,
All the while I am crying so softly,
I am home and survived the horrifying disaster!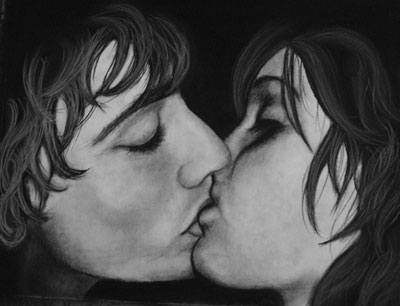 © Anna Y., St. Robert, MO