Too Late
June 15, 2009
I can still see the stairs to lead me out,
I can still see light flooding over the horizon.
I am safe.
I turn my back to my escape and look onward,
Feeling the tiny grains of sand underneath my feet,
Smelling the sea,
Hearing the gentle waves get louder and louder.
But I am seeing nothing.

The light has gone,
Leaving me alone.
I cannot see where I am headed,
Nor what is headed for me.
I am not moving,
But the now damp sand is dragging me closer and closer to the break.
There is nothing I can do.
I don't know which way is which.

A sense of desperate, hopeless panic goes through me.
Not because I cannot be helped,
But because I do not want to be helped by just any stranger.
I'm too noble.
I like to think of myself as brave.
But I can feel the air get faster and cooler.
I can hear the waves getting closer and closer.

I close my eyes to cancel of the darkness.
Nothing works.
I am standing for an instant,
But my feet are wiped out from underneath me.
And for the first time in my life,
I am COLD.

I am thrown around in the waves,
Trying to do anything that will help me,
But my limbs feel useless and numb.

I am afraid.
I am lost.
I cannot see,
Nor can I be seen.
What does it matter?

I am too late for myself.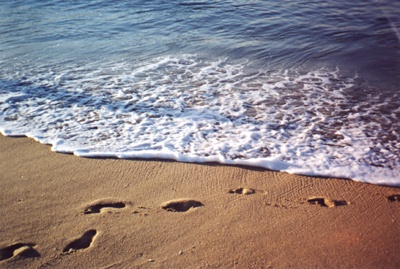 © Daniel M., Phoenix, AZ