One Direction
July 3, 2009
Too many things going on in the mind
though everyday life seems on the borderline of boredom.
Contrasting conditions fogging and confusing
what's real from imagination.
Losing feelings I never had
yet I try to obtain them
for my own
to make into my reality.
Emotional loniness
bringing me down
wanting
waiting
for someone that will never come.
I want for more
I want for someone I can look upon and call beautiful
and tightly hold around her waist
caving into my masculine instincts.

She's beautiful
She smiles
I smile.
I listen to her stories of silly things
insides churn
refusing to show the glimpse of the smile inside me.
She's cute.

She's out of my range.
She knows of my previous experiences
and relationships.
She's supportive
but unavailable
To me.
Only available to those of the opposite sex.
Head throbs
stomach aches.
Why can't all love oustide the boundaries of survival instincts?
Hopes fail
dreams shatter
raining down infront of my eyes
blinding me.
Caught me off-gaurd
forgot that most people only go one direction.
Catch myself.
Pick myself back up
shake it off.

Start it over.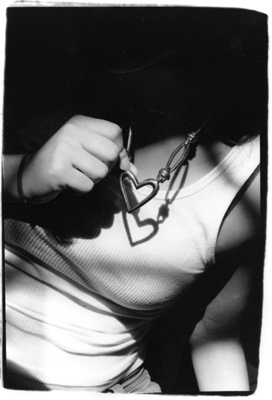 © Julia R., Bethesda, MD