Hiding
July 21, 2009
I'm constantly hiding. Hiding in the midst of my mind. Hiding my tears, (In hopes that you won't see)…Hiding the pain that I'm feeling, (Maybe you won't see these bruises that you've caused)…But, mostly, I'm hiding how much I need you…

My smile is my disguise; It shadows over everything I'm feeling. Oddly enough, it seems to work. I didn't think it would, to be perfectly honest…

You never tend to see. It's like this mask of mine is my life's miracle. I've always thought I was going to give in soon and I wouldn't be able to shine much longer. But it just never happened.

The only thing you see is her…That beautiful figure…She's perfect, something I could never be. She deserves you, and you deserve her. Together, you shine like that sparkling star that I wish on every night at 11:11.

It's like the twinkle in her eye is hypnotizing…She's beautiful and you're mesmerized. I can see why. She's got those qualities…just like you. That smile is beautiful and I could NEVER live up to that. She draws you nearer. It's a beautiful thing I guess. I can't control it. You love her, and it shows.
But ya see, I'm okay with that. If you think back, and remember, you told me when we were just thirteen years old that I'd find someone. It would come sometime, I just have to wait. I guess you can fall in love at any age, (I just happen to be late). My first love lives on in my heart; that I can't deny...

Honestly, I have to admit, I will probably never forget you as long as I shall live. I will still write about you, whether it's about friendship, or how much I miss you. I just can't control that, and probably won't be able to for a long, long time. I will continue to message you, (You can count on that).

I guess there's no denying: You love her, and even though it's killing me, I still can't forget you. You'll always be with me, heart and soul.
I'm hurting right now, but time goes on, and that will change. I'll find that special someone and I WILL move on. Time will heal me. Until then, I guess I'll just have to keep hiding. You're happy, and that's all that matters. As long as that continues, I'm happy too. After all, hiding seems to be my specialty at the moment.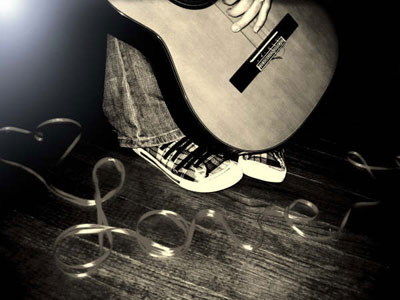 © Leah C., Grand Island, NE