Questions of a Broken Heart
July 17, 2009
Was it real? When you told me you were mine?
In the vastness of my heart were you really there?

These questions unanswered left me love stoned
When you said it was "forever" when did it end?
When you told my Heart of crystal enchanted you
That you'd love to give it care and loyalty
Why did you let it shatter into thousand of bits that I cannot put together?
I cannot redeem everything from the "Fall"
But the truth I want to hear

Where was your heart all along?

My questions are inconsequential now that you're gone
I must move on, like everyone who lives in this cyclic world
But then I cannot, for you left me hanging
My heart stopped. Then the cycle came apart.
My chest hardens, my breathe stiffens
I feel being dragged to hell
To think that I am alive and breathing
I feel buried half to the ground

Was it really your heart that I touched?

Was it really your voice I heard that told me "I love you"?
Was it your arms that made me feel life has no end and I will be safe forever?
My thoughts are overflowing I can barely sleep at night
But I'd rather be filled with this than not to feel you
Somehow the memories we had together were enough for a lifetime
That this part of me, questioning you of what had happened, was wrong.
You were real. Maybe or I just wanted to make believe.
All along your words that raise my cheekbones from ear to ear in the most unfeasible situations
Were real.
But the part of you that said "Forever" wasn't.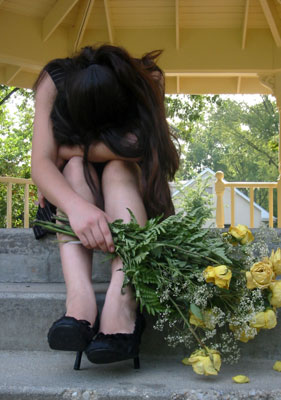 © Martha V., Morton Grove, IL