Poet of the Night
August 15, 2009
I can still remember the way the stars looked that night.
Twinkling bright and hopeful, anticipating the promises of the near future.
The wet grass moistened the fabric on my new sneakers and the cold air gently brushed my face-sending a shiver up my spine that I welcomed gratefully.
I was alive.

The world spun a little faster as the tall, dimpled boy next to me smiled and protected my petite frame by wrapping his arm around my shoulder.
Words from a Smith's song ran through my head, "To die by your side is such a wonderful way to die…"
I could die here, on this cold night, and be the happiest girl who ever lived.

The sprinkler went off, showering the beautiful boy at my side and I with a light mist of icy water.
He grabbed my hand tightly; his fingers intertwined with mine, and together, we ran through the park.
The grass was slippery, several times threatening to pull me to the ground, but my knight held tight. He wasn't letting go.

Suddenly, he stopped.
I looked around, confused as to why we were no longer flying through the night. The persistent sprinkler began to drench us with its rain. I could feel my hair beginning to drip, water seeping through my layers of clothing. It didn't matter now. Nothing mattered anymore.
Only this.

He smiled at me, the moonlight reflected in his emerald green eyes. Time sped faster, as if it were keeping pace with the frantic beating of my young, innocent heart.
He was a mix of every boy I'd ever known, yet completely original.
His voice, deep and strong, resonated within my soul. I could feel my life vibrating with each word he spoke.
He was my hero, my poet, my savior. My revival. I felt invincible.

I could feel the world coming to a halt as he leaned in and brushed his dry lips against mine.
The man-made rain continued to fall all around us, making the atmosphere nearly freezing, but my pounding heart created a blanket of warmth around me.
He took my face in his sturdy hands, stroked my hair, while exploring the small details of my features with his fingers.
His strong body was pressed up against mine. I had to stand on my tip-toes to reach him.

Life stopped.
To a random stranger, we'd look like a drenched couple kissing in the middle of the night.
In my mind, we were Romeo and Juliet. We were Antony and Cleopatra. We were extraordinary.

Our kiss never ended.
It continued even when it stopped. I could feel the pressure of his lips against mine, even when he pulled back. He lingered, his face next to mine.

Despite the dark, everything was shining. My world was sparkling, every surface glittering to my eyes.

Love had hit. I would never be the same again.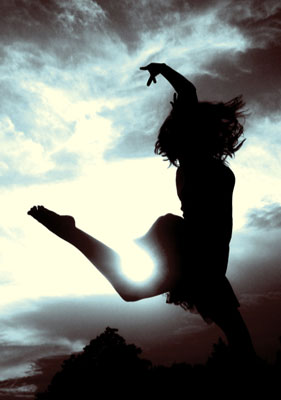 © Martha V., Morton Grove, IL