Mowing the Lawn
August 23, 2009
When I'm happy
my mother makes me mow the lawn.
I put on comfortable shorts and
a baggy t-shirt.
I walk outside, and the suns shines its yellow beam
upon my grateful soul.
I push the mower along,
it's rhythmic chug-chug-chug drowning out the world.
I think about dreams, life, love…
stuff.
I glide with every step,
I'm as light as a feather.
The wind whispers in my ear,
and the beautiful blossoms smile at me.
It's carefree moments of the summer time,
just like this,
that proclaim how wonderful life can be.

When I'm angry,
my mother makes me mow the lawn.
The heat is unbearable, I sweat like a dog.
The annoying hum of the mower
drives me
insane.
My footsteps are heavy. I weigh a thousand pounds.
I think about how long this will take,
how unfair it is.
The wind blows my hair into my eyes,
and the flowers mock me.
It's summer time, I should be doing something
useful.

Today, I mowed the lawn.
The sunshine felt like a warm blanket on my skin.
I got a lot of thinking done, no interruptions.
It was easy.
Didn't even sweat.
I was reunited with my old friend, the wind.
It was nice to catch up.
The flowers were extra kind today,
welcoming me back to the beautiful memories
of summer time.
I found happiness between the blades of grass.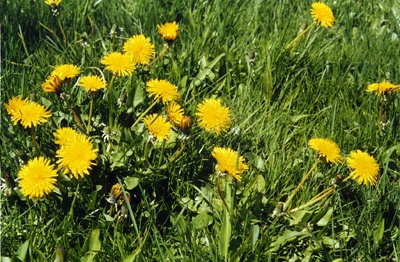 © Hoang P., Rochester, NY