Confession
August 23, 2009
When it first began it felt so unreal,
the way you'd talk and the way I'd feel.
I melted in your presence but tried my very best
to play it cool and let destiny do the rest.

I'm not your style, you deserve something more,
a beautiful girl to love and adore.
But you filled me with hope when you smiled that way
that maybe I could be that girl someday.

I have a confession to make to you.
I run from my feelings when I don't know what to do.
You stun me, you scare me, you freak me out.
Help me see what love is all about.

I'm starting to wonder if your feelings are true,
sometimes I feel like I'm not real to you.
You ignore me and others girls intrigue you more-
Your love is a dance but I won't share the floor.

I know it's unfair because I'm not pulling my own weight
but your face clouds my mind and I can't think too straight.
Just because I run from myself doesn't mean let go,
please come after me so I can't tell my feelings no.

You literally swept me off my feet
and you looked at me so our eyes would meet.
You used to tell me I had beautiful eyes,
have they lost their magic or was it all just lies?

Some thoughts are better left unsaid,
but I'm afraid my silence had us both mislead.
How do you choose and when is it right
to say the words you've wanted to all night?

I got what I begged for when you came after me
but blinded by my tears I couldn't see-
that look on your face, of confusion and care,
was it for me or were my bruised senses unaware?

Please believe there's not much I wouldn't do
for just one more star lit night with you.
I'm terrified that I've lost my chance-
My memory holds on to that one last dance.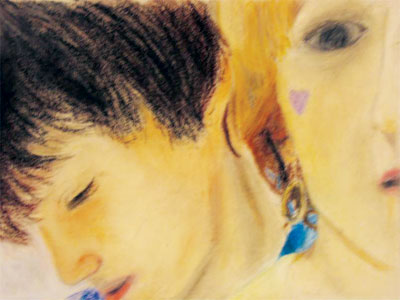 © Natalie D., Ames, IA