Roasted Marshmallows
November 5, 2009
You know when your hair gets caught in your mouth. Or when the scent of strawberry shampoo escapes from the shower. That is what my family's hair is like. Each personality shines through each person's hair.
Shaving his head everyday he comes up with a round shiny dome. My dad's head is like a beach ball - round, shiny and fun to play with. The little bits of sand that get stuck to a beach ball are like the little hairs stuck on my dad's head.
Short and fluttering in the wind, Heather's blond hair is the color of the sun. Her hair drapes over her shoulders. Heather's toes flutter in the air when she is doing a cartwheel, or when she is doing a handstand just like her hair flutters in the wind.
Filing papers into their spots. Papers are never seen running across the room, for they are neatly placed in a filing cabinet. My hair is like this shiny gold filing cabinet. It's never messy. My hair is always tied up in a hair tie. My hair glistens in the sun just like my mom's.
While roasting marshmallows in a roaring fire I come up with a golden brown color, or I come up with a black burnt color. The golden brown color is the same color as my mom's hair. Sparkling in the glittering sun, my mom is like a diamond. My mom's hair matches her personality. Her head is full of hair while her heart is full of love. Her hair is full of sparkles while her face is full of beauty. Curly hair and comforting hugs create the excitement of my return home from school. Soaring across the dark, night sky, my mom is like a comet. She is a rare, beautiful person who only comes every one hundred years. My mom is a perfectly roasted marshmallow, warm, fragile and delicate.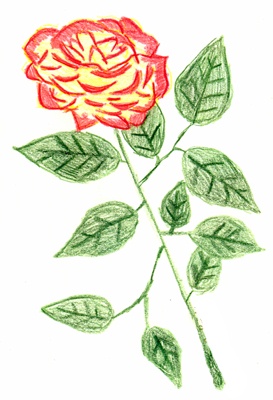 © Kelly Z., Niscayuna, NY