Zealot
May 25, 2010
Plastic bags are flitting through the breeze.
Wind feels cold on my uncovered knees
On which I kneel and pray before my God
Whom now I work against.

This place, now desolate, was full of life
Before we came, along with guns and strife.
We ran them out into the streets alight
With burning oil, to Hell's own fiery bite.

Then set up in the town our fortified base
If only now to elongate the chase.
While planting bombs the Western Warning sounds
And now we can prepare our final rounds.

Prepared specifically to render flesh
Of those uncivilized fat Westerners.
Their blasphemous raw hides to wound and gash
Are our weapons designed to kill the curs.

They charge through our now stolen town.
We are prepared to stain those Western gowns
With our quasi-religious blood
And stomp their stolen country into mud.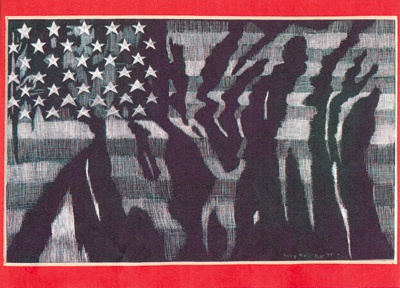 © Haley M., Ellinwood, KS