My Faith Is
April 10, 2011
My faith is a garden
on a cracked granite stone
where the seeds of Arden
have already been sown

with three turtle boulders
and a red bonsai tree
hunched over my shoulder
in quiet harmony

where soft murmuring brooks
spill elysian stories
into child-laden nooks
of great golden glories



~
My faith is seven beads
strung on ambrosial string
with earnest, whispered pleads
heralded on a wing

one mantra, my comfort,
a thousand times I've said
my eyes I avert from the
temptation of the dead

solemnly I await
in silent confession
under a mosque ornate
laden with expression.



~

My faith is deep incense,
a majestic teal smoke,
sedating my suspense
to Him, pray I, invoke!

heaving, I lay prostrate
beneath a wooden cross
my mind a slave to fate
under the dread of loss

a sole candle I light
to ban obscurity,
and murmur sacred rites
solely for purity.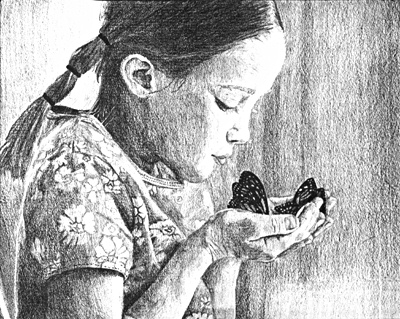 © Alina L., Holland Patent, NY