A Poem of Late Summer
September 3, 2011
The last of Summer passes
Gold and green and fair,
Gentle wind cool and sweet
Swirls through the damp warm air.
It carries not yet the chill of Autumn,
Though it is close at hand;
Verdant fields laden with grain just ripe,
Blanket the rural land.
Pastures where cattle graze,
Fields edged by stands of trees,
Farm houses blurred in the morning's haze,
Stretches of clover dotted with bees.
Sunflowers and Queen Anne's lace line the road
Waving in the breeze
Yet few of the people passing by
Stop to notice these.
Flowers along a barren highway,
Color beside a stretch of grey, blossoms beneath the arching blue sky,





Petals turned to greet the day.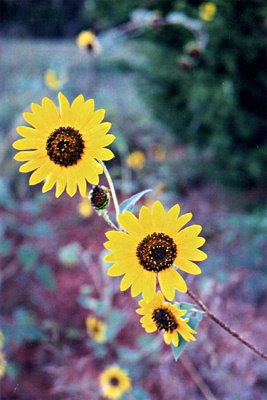 © Megan B., Luther, OK