Friendship
March 9, 2012
Conversing Ducks
on the shimmering murk
while a cloud comes in on lake.

Two Birds of a Feather
flock together;
an advantage which they'll take.

No screeching gossip
had of those Seagulls,
None of that they'll have today.

"Honk!" one says,
companion to the other,
"Hank!" the other seems to say.

No beautiful songs
of the Sparrows around;
No, no that extraordinaire.

Talents like that, well,
neither of them have,
though none of them seem to care.

The dark cloud comes in,
and so does the rain;
the two carry on right through.

And look at that;
Gab along, they keep go!
Together, they'll remain true.

Conversing Ducks,
two friends of a feather,
their reassurance given,

With honks to and fro,
on and on they go!
Through life lakes yet to be ridden.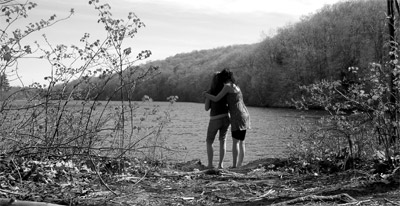 © Paige B., Woonsocket, RI