Clocks
September 21, 2012
Laying on the bed facing the wall
She watches the ticking of the clock.
And like a dislocated bone
Pops into place, the arms push each second
Forward into the next, and, struggling with each tick,
Pile everything into one large burden to her mind.

For nothing ever changes in the mind,
And the mess that only builds with time
Buries her daughter: "Turn away from the clock
To look into my eyes. Be, like a wall,
A thing callous and cold, while my every bone,
Each full of love for you, withers with each tick."

Why can she not see that the arms of the clock
This time, and forever, do not for her tick?
She presses her face to the wall,
Spilling her tears and losing her mind.
As though vivisecting her, the seconds
Leave her body with not a single bone.

Endlessly hollow, she hears no tick.
She says in her head, she feels in her bones,
"Dear time, as you move with every second,
Be the one to also take, to rid me of, my mind."
The girl was told she was a wall:
She became a slave to her own clock.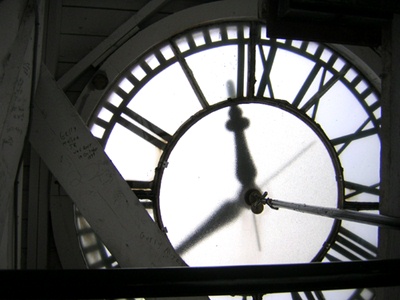 © Tatyana Z., Norwood, MA