Your Angel in the Storm
June 27, 2013
The sky outside grew darker,
Like a veil it fell.
There is no other storm,
Not on Heaven, Earth, or Hell.

Is that a tornado forming,
Or the gods at war?
Do I see the home of death,
Am I standing at its door?

Lightning flashes all around…
The thunder's constant boom.
A scary scene outside,
More eerie than a tomb.

The moon is covered with clouds
The stars above aren't glistening,
The thunder rolled up under,
And I, below, am listening.

I lay awake tonight,
Watching just for you.
I'll last the night and the hail
Until the black turns blue.

I fear to close my eyes…
Drifting off to sleep.
You might believe I vanished,
When in fact I keep.

Poems to you all night
Written on a wing
Of what I feel inside;
A lullaby to sing.

And when you think it's done,..
A flash and then a sound.
The lightning strikes your hopes
Like twisters touching ground.

Kisses blown to you;
Celestial goodnight.
Hold your Teddy Bear,
And I will watch your night.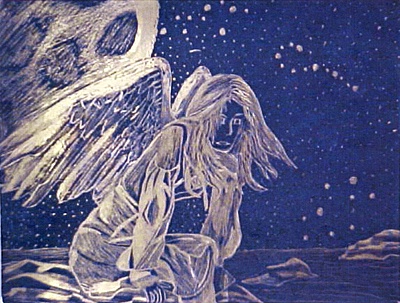 © Kaylen C., St. Clair, MI