Death's Cookbook
August 5, 2013
The party I just exited left its intoxication in my soul
To the point I didn't notice the air's unsavory weight.
We had been drinking and smoking which at the party
We called it the recipe to get plastered not knowing the disaster
That would happen soon after.
I stumbled from the door, and as I looked at the one shining star
I could swear it was crying for me not to get in the car.
It's not the best decision, but I'm going to drive home.
My heart is racing as my speed climbs.
Thunder crashes through the clouds followed by so much
Rain I couldn't see in front of me.
I flip on the wipers and continue on my way
Praying to God and convincing myself I will not die today.
I've been driving for so long trying to resist the sleep
Attempting to invade my mind and make me dream of a jolly black bear.
I feel myself start to concede.
My eyes shut tightly, and my hands release the wheel.
I awake from the quick nap to my car spinning wildly on the wet asphalt.
I try to straighten out and stop, but it just keeps going
Now the guardrail is approaching.
I close my eyes and brace for an impact that doesn't come.
I look out to see that the car stopped a few inches away.
For a moment I sit in the car and reflect grateful I can see another day.
I get out the car and suddenly there's bright random flashing lights.
As my eyes start to focus so does my body on the excruciating pain I feel.
The guardrail is broken, my car is in ruins and my bones are shattered.
I guess that party was a recipe for disaster.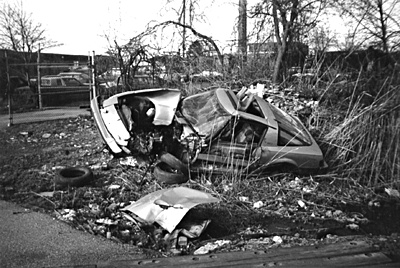 © Ashlee M., Wilmington, DE