The Little Penguin
December 12, 2013
On a cold and snowy Arctic night
Icebergs slowly drift out of sight
Not the tiniest bit of light sparkled on the snow.

A suffocating darkness flooded the land
Snow blew violently, sharp as sand
Warning, "Get out quickly! As fast as you can!"
The wind continued to blow.

But amidst the chaos, against the white
stood a small penguin, cowering with fright
Oh how he longed to see the light
That shined as bright as day

This small penguin, tangled in fear
cried with the wind, for it was all he could hear
Until he heard a soft whisper, it was so near
"It's going to be alright"

And then, like magic, his fear fell away
The dangerous dark turned into day
The little penguin turned around to say-
But the voice was already gone

The feathery little fella yipped with glee
A blinding light was all he could see
And then he thought after being set free
"You lost, Mr. Dark. The Light has won."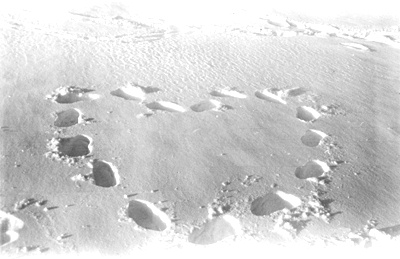 © Kim B., Marblehead, MA