On/Off
July 23, 2014
You wake up each morning, and go straight online,
Scrolling through Facebook, Tumblr, Vine.
And you feel quite productive, as you waste your time,
snapping selfies all showing your "hip" peace sign.
We are told by adults to slow down because,
time passes quickly…but no one really does.
Refreshing and scrolling through numerous feeds,
Photo rolls screaming, "me me me!"
Begging for fame, no matter the cost.
Viral videos and blogs, in which we get lost,
Until true "self" is nonexistent, or rather unknown.
For we try to mimic others lives instead of embracing our own.
The values our parents hoped to instill,
are obliviated by a society where morals are killed.
Where conformity and submission are what's keeping you alive.
So you strangle your ideas, just to survive.
But the worst of it all is how we start to believe,
that we aren't anything more than
the "likes" we've received.
And they say our generation will do great deeds,
but I scared of the future where we share the same creed.
When no thoughts are our own, because they're what others say.
And no one can do things, in their own way.
Where no individuality can poke its way through.
But the person who can change it all is you!
Say "hi" to a neighbor, cheer up a sad friend.
Save the narcissism for later, you don't have to press "send."
Life is not written in 140 characters, so look up from a screen,
and break down the barriers you've put up to
put under the true You inside.
Listen and notice,
throw your arms open wide, for you'll find
true meaning in the flaws we try to hide.
If you can do it, so can your peers.
Let's make a chain reaction that will go on for years.
So when people look back, on what's now today.
They'll think to themselves, "I want to be that way."
Instead of sitting there, and of us, scoff,
because we didn't bother to turn phones off.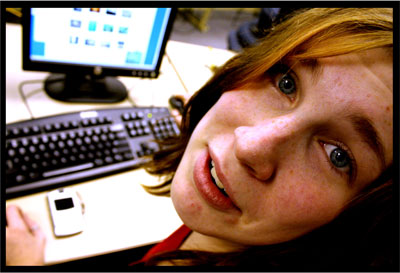 © Sam W., Bellevue, WA