Divinity
May 8, 2015
Shake the words off, she'll be back
Fall to my knees, I can't keep track
Of the lack of certainty, it's hurting me
I look away, she's still there if I look away
A wide array of strife and pain and shame
That I can't save and so I look away
And she will stay if I look away
Sharp pain pulls at my heart
My stomach, my throat and every part
Of me that burns to have her here
That yearns to hold her near
And have nothing to fear
As I whisper in her ear, yet
There is no one there,
I toss and turn, I burn, my flesh sears
I writhe and squirm to escape and tears
Swell in my eyes and my heart drops
And the world stops
Chained to reality, let this be a fallacy
She's all I see, in front of me,
This can't be, and yet
Here I am, a gutted, bleeding wreck
Who took her?! Who's to blame?!
Set them aflame, crush their frame,
Murder them and their name, why?!
Why me? Why is she gone?
I would give the world if she just
Be at my side in the dawn,
Let It Dawn and let this hart see his fawn
Pull at my heartstrings, my love
For your light comes straight from above
And if there's truly a god,
He would bring back my darling dove,
But he won't...
A kindly flame to warm, not harm
Having her hug my arm
It's a memory I hold so dear,
So why is it a deadly spear
That pushes itself deep inside
My cold heart's hard and crusted hide
I'm terrified and petrified
As my flesh is torn open wide
For all I've ever done for her,
I never lied or set her aside
And yet I am denied,
She took my stride, my joy, my pride
She left, and I'm alone
And this is what I'm shown
Blackness with a numbness
That pulls on your heart and tears you apart
And ends your thoughts and ends your start
The tart taste of true failure
Time ticks on the timer
I wish to god that I would die
At least then it would be over
What reason is left to step forward
It's backward and awkward and I can't face this horror
It's torture, but not of flesh, it borders
On heart and mind, meshed, it's a hatred of myself
Pure and clear, not fear, it's hell
Fell from the highest bell tower and well
I might as well burn,
For I'm a coward
With nothing to gain and nothing to lose
I'm nothing, as nothing is nothing of use
I light this fuse
I look to the east as the sun rises
As if it was an answer to my crisis
I watch as the colors come into view
Out of the darkness, something new
As if on cue, as if it were the dawn I was due
I reach for the light, as I reached Into the Darkness
Yet, I cannot touch it, It's just out of gain
Just an inch away, always an inch away
And my heart throbs at the thought of hope
For hope always lay at the end of a rope
The hope that life was but a hoax, a faux
So as to grow what we know that we could go
Beyond the barriers of what is so
The light comes closer at every hour
It gives me power, which I devour
I wish for more and only more
I look to the tower and shout out for my answer
and silence comes, for this is my cancer
My death comes at nothing
My breath stops, lungs crushed and
I reach out
I reach out and break my own chains
I'm done with the pain, take it away
As I wish the sun was clouded
So that it may rain, but it's not, so I feign
A way that I may see the rain as the sun rays
Beam upon me and I look away
This is where I choose to walk away
Let Me Walk Away, towards the west
As the sun slowly settles and sets
It darkens and slowly I let
My eyes close, as I no longer follow those
My heart will once again take lead
For my heart is the strongest part of me
I feed it my sorrow and it only seems
To get stronger with each seed
I sigh as I no longer feel the earth beneath me
I'm free, it's the only way I see the sea
Of people agree to a degree with me
I am one of them and they are one of me
But still I'm on a higher level
One which keep angels and devils
I trudge in the hatred in which I revel
I shall walk forward intently, infinitely
Uncertainty takes me and it shakes me
Divinity is what I make it, for then it shapes me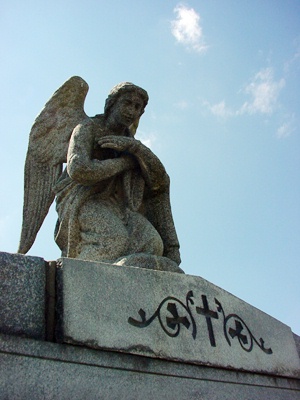 © Greg K., New Lenox, IL