Being Me
January 13, 2009
My bedroom smells like pencil shavings and old dust swept under the bed.
Ideas bent and broken, tossed around,
Adorn the walls like washed out drapes, clinging to the corners.

My notebook is open to an almost blank page filled with eraser marks,
Paying tribute to all of the half formed thoughts flung onto the paper,
Dying before they come together,
But after they take up the space.
And I suppose I could have torn it out,
But then again, who am I to waste a page?

A dream catcher hangs on the wall just above the bed,
But I like to imagine it a word catcher,
Flinging back the ugly ones into the black oblivion of my mind,
And setting aside the ones that matter,
Until I can wake up and knead them into the dough of my stanza or verse,
Keeping them from just becoming another dream not remembered.
But then again maybe my word catcher is just a bunch of wood and string.

Before I go to bed I pray to Pele the Hawaiian God of fire to help bring me words that will burn on the page,
And brand readers so that they will never forget.
I want the meaning to leap of the page like fiery embers,
So that everyone will understand.
But then again maybe I just read too much mythology.

I try to chase the wind,
Analyze what the wind is thinking when it rustles in the trees.
When I see the painting I see not colors,
But words to describe them.
I think differently,
In words and rhymes,
In rhythm and words thrown together to mean something to people.
Maybe I'm crazy,
But then again,
Maybe I'm a Writer.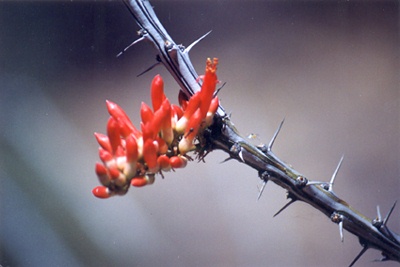 © Andy G., Phoenix, AZ