He Smiles
May 19, 2015
Run faster, run faster, don't lose your breath
You must save him, save him from the brink of death
Or whatever's left, go now, find him in the room
You got there before his doom,
Boom!
Something's off, something's not right
But he smiles at you, and in this light
You see him eye a new sight
A world beyond what you can imagine
Peace throughout with no pain, no famine
The thought is damning,
Sit him against the wall as he smiles
He's been through a lot, let him rest for a while
Take his gun and toss it out,
It's just another thing he can do without
In the dark room, days pass by
He lies in the corner, your feelings give rise
As you realize that you save his life
You stopped him from this unthinkable act
But still he's yet to react,
He hasn't spoken, he hasn't eaten,
He's in shock, after all it's death he has beaten
He is alive and that's all that matters
You may leave when the silence shatters
Make your coat his blanket, keep him warm
He looks so peaceful in this form,
He's gotten through this painful trial
So he lays there, and he smiles
He was painting before he tried
To kill himself, but since he didn't die
Take the paint and hold it high
Smear it on the wall as he did
Like when you did finger paintings as a kid
Get rid of the smudges, paint in his style
Red splashes on walls, that's right, he smiles
No windows, no lights, just the glow of a small fire
But you're not cold, it's fine, the situation isn't dire
You're not tired, and yet…
He awakes!
Eyes open as you hug him tight
He's awake and you can leave now, right?
He's happy, he smiles, he's here, he's alright
He lays there happy, he looks to the paint
The smile on his face is never feignt
He likes it, the way red drips down in streams
He's ecstatic, so happy, you did it, it would seem
His throat is hurting, so still he doesn't speak
Not hungry, even if it's been a week
There's a certain paleness on his cheek
And something in the room begins to reek
But he smiles, eyes open, he smiles.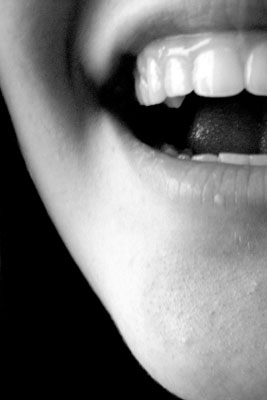 © Katya K.